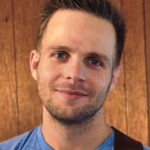 Tom Goss is an out gay singer-songwriter, or more to the point, a singer-songwriter who happens to be an out gay man. He has built a following and a career primarily through an ongoing series of videos—by turns funny, provocative, heartwarming, dramatic—of his engaging songs. But he takes his sexual orientation as a given, so his songs tend to begin where the works of similar performers end. There is no preachiness; the songs relate human concerns, foibles, and narratives that are universal.
It was heartening to see couples, regardless of make-up, reaching out to touch or hold hands with their partners during one of the love songs in his recent performance at Don't Tell Mama. Simply standing center stage with his guitar, he captured the spotlight and the audience with his impish smile, his sparkling eyes, and his obvious delight in sharing his time and his stories with them. In his opening number, "It's All Right," he intoned, "Is anybody listening?" It was an unnecessary question, given the rapt attention that was paid to him from the first joyous Joni Mitchell-like chords of the song.
He got big laughs at the expense of his husband (who was in the back of the house) recounting tales of marital irritations along with marital bliss in his easygoing between-songs patter. His major statement on their relationship was a simple and touching recognition of his feelings, the song "You Know That I Love You," with the words "…there are no days without you in my life, and all my songs are about you…"
Life on the road was another source of amusing anecdotes, which led to one of his strongest songs, "Wait," about making a living in the music industry. In the song, he recounts advice he has received along the way: "You gotta write you that perfect song, sell your soul, cash your check and move on." The heartfelt "Mama" explores the hidden, ingrained prejudice that can exist even in the closest of families and friends. It's a very personal tale, which made it even more universal.
Goss doesn't do many covers; in fact, there was just one in the show: his stripped-down, passionate take on "Son of a Preacher Man" (John  Hurley, Ronnie Wilkins), which moved from a smouldering beginning to a pained howl by the end, with the narrator traversing the years between the throes of first love and the regret of an older man realizing the loss of his youth. The power of this interpretation makes me hope that he will explore other songwriters in the future. He had no choice but to include his jolly ode to his perfect man, "Bears." The hirsute contingent in the audience that night roared their approval, as did everyone else.
While I enjoyed much of the material, a part of me couldn't help wishing for a bit more complexity in melody and lyric occasionally. I think Goss has it in him.
There weren't a lot of overtly political moments in his show or his songs, but Tom Goss on stage celebrating life and love turned out to be the best kind of politics of all.
Don't Tell Mama – September 21
Category: Reviews