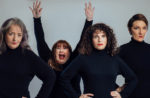 With Those Girls, currently at the Laurie Beechman Theatre, four talented solo cabaret performers (Eve Eaton, Rachel Hanser, Karen Mack, and Wendy Russell) join forces and voices to apply their rich, exciting harmonies as a modern-day, "hair salon quartet" answer to the barbershop quartets of old. Even when each gets to lead, the other three are close by to supply vocal support. The show was directed by Lennie Watts; musical backing is provided by music director Steven Ray Watkins on piano, Matt Scharfglass on bass, Ted Stafford on guitar, and Don Kelly on drums. It is a powerhouse band—though occasionally too powerful, when the big musical sound battles with the vocal blend rather than supporting it.
During the show, we get to glory in those voices collectively and separately. When they connect musically and emotionally with a good song, like Lennon and McCartney's "I Will," the result is lovely. A pairing of U2's "40" and "Pride (In the Name of Love)" offers the strongest musical and emotional moments of the evening—the women not only sound wonderful, they get inside the lyrics. "New York Minute" (Don Henley, Danny Kortchmar, Jai Winding), with a lead vocal by Mack, is another standout.
However, there are elements that diminish the enterprise—for example, some forced wackiness and stilted patter. Also, at times, especially at the top of the show, the women are in constant motion; more stillness might allow the audience to really appreciate the gorgeous sound of their voices. The musical selections are uneven: most of the newer songs are inferior; if a song is lacking in melody, the close-knit singing, no matter how accomplished, devolves into repetitiveness. In addition, the quartet's approach to some of this material can be an uneasy mix of presentation and mockery, as in the opener, "Bad Romance" (Stefani Germanotta, Nadir Khayat). The song, itself, is bad, and the mockery adds an air of emptiness to it. A less self-referential song might have made a more inviting introduction. By all accounts, "Ain't Nobody Here But Us Chickens" (Alex Kramer, Joan Whitney) mixed with healthy doses of Glenn Miller should be a showstopper, but it is derailed by interruptions for chicken jokes and shtick. The singing bristles with life; the humor is lame. What's more, some songs seem to be there to show off the arrangement rather than the arrangements being there to illuminate the songs.
There were technical difficulties the night I attended as well. The vocal sound at the Laurie Beechman (often problematic) was so muffled that it really hurt the combined voices. And a couple of numbers were so "dramatically" lit that I literally could not see the faces for the entire song.
Nonetheless, when the actual singing came to the fore, I really liked Those Girls. I hope next time they jettison the hokey attempts at humor and concentrate on the music.
Laurie Beechman Theatre – May 10 17, June 4, 17
Category: Reviews