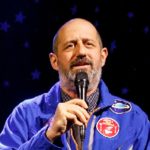 The Outer Space, currently running at Joe's Pub, is a song cycle set in the future about the desire to escape the stress, fear, danger ,and drudgery of urban life and the inevitability that those same problems, albeit in different forms, are waiting in whatever destination that escape winds up.
Ethan Lipton, who wrote the book and lyrics and composed the score with the band, serves as protagonist, emcee, and wily storyteller. His deadpan, twangy delivery in both monologue and song, is immediately ingratiating and grounds even the bigger flights of fantasy in a recognizable reality. He is a beleaguered husband and city dweller. When he comes upon a sign for Corcoran Realty on a wall above a sidewalk strewn with garbage and crack vials, he is equally disturbed by each of them. With pressure from his wife (who remains unseen offstage, but a potent presence nonetheless), he scrapes together the funds to purchase an old, used Trident space ship and escapes not only the city but the planet before "the whole thing blows up." They take up residence orbiting in one of the rings of Mercury in a colony of ship dwellers. In a funny list song of urban overpopulation, he explains that rather than getting away from it all, he wants "to get to it all." Here and throughout the score, the inventive wordplay is a delight.
The infectious opening number, "Big Adventure in the Sky," sets the tone of excitement and liberation. He soon expresses reservations, but his wife takes to her new surroundings with increasing joy—a development he recounts in an insistent, south-of-the-border beat, as he sings, "She does well in space." For him, the tedium of new day-to-day problems and irritants sets in. Time passes slowly in space: one "mercurial" day equals 59 Earth days. The solitude of a huge ship inhabited by just the two of them, the repairs, the relationships with his new neighbors, the quick success of his wife to fit in to the new routine all begin to weigh on him. He practically celebrates the fact that he won't be swayed from his discomfort as he sings, "You can't take away my grumpy…" After an unexpectedly poignant conversation with the outer space itself, he realizes he may have made a mistake. His resolution to that dilemma and his realization that externals like drink, drugs, calories, or yoga might not answer his internal needs, lead to a wonderfully satisfying ending.
The writing is bright, witty, and deceptively light; the "heavier" concerns— love, commitment, and the repercussions of every decision we make—sneak up on the unsuspecting audience. The music is consistently entertaining and surprising within what could have been the limited palate of country pop (with an occasional and altogether successful "flavoring" of avant-garde electronic sounds). There are brief wordless interludes (illustrating such unexpected narrative detours as the lot of dogs, cats, and, finally, beavers in space) that prove that the wit of the piece extends beyond the lyrics into the music itself.
The band is extraordinarily good, fully an extension of Lipton's voice. Vito Dieterle on saxophones, Eben Levy on guitar, and Ian M. Riggs on bass all contribute vocals and keyboard work as well. They are the perfect complement to the storyteller and the tale he tells. The tight, sly direction of Leigh Silverman allows the show to flow seamlessly, and Ben Stanton's evocative lighting design and David Zinn's minimal scenic and costume design are major contributions to the show's success. My one technical reservation is with the sound. On too many occasions, Lipton's voice is not as upfront as it should be. The lyrics are so good that I was bothered that I missed some because I just could not hear him over the music.
But that is a minor quibble about a show that is quite special, indeed. The Outer Space is so rich in word, melody and story that I am sure it will only grow on repeated viewing. It's an experience that should not be missed.
Joe's Pub  –  through April 9
Category: Reviews