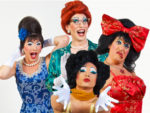 Back in the day, the great Charles Ludlam formed the Ridiculous Theatrical Company and brought drag to a new and unique plateau—not using cross-dressing for just fun and camp, but to comment on theatre, on society, on gender expectations. If he had expanded into cabaret, he might well have come up with something like The Kinsey Sicks, who performed recently at The Metropolitan Room in anticipation of the May 1 release of their ninth album, Eight Is Enough (think about it…). Billing themselves as "America's Favorite Dragappella Beauty Shop Quartet," their show, "Electile Dysfunction," imagined the night to be a Republican rally at which they announced their plans to run for President as the first quartet in history to seek office. Their logic was hard to dispute when they explained that with four people as candidate, they could reach all of the constituents in the party. We were presented with: Trixie, the Wall St. financier; Rachel, the libertarian (she does whatever and whomever she wants); Winnie, the religious conservative; and Trampolina, the Tea Partier (because she is white and enjoys being scared and voting against her own economic interests).
Using a mix of original songs (by founding member Ben Schatz), clever parodies, intricate vocal arrangements, witty choreography (including a kick line or two), and sometimes smart, sometimes gross patter, the four hit on most of the hot-button issues one would expect at a Republican rally.
They sang their economic platform, centering on a song called "Sell the Poor." They worried over the next Supreme Court appointment, declaring that the danger was not just the "Is-lambs" but there was an equal threat from the atheists. They offered their favorite Clarence Thomas quote (a minute of complete silence) as a lead-in to an ode to the recently departed Justice Scalia, sung to the tune of "Maria" from West Side Story ("Scalia, Scalia, we'll follow his Christian Sharia…").
In stirring speeches between songs, the candidates warned of stupid Left Wing traps, like facts. They spoke of Jesus' favorite part of the Constitution, the Second Amendment, claiming that he and the other founding fathers stressed "the white to bear arms." This section was climaxed by one of the best numbers of the night: "Get a Gun." There was an anthem to America's right wing mouthpiece called "What Does Fox News Say," with the recurring refrain "the truth is red, lies are blue…hate 'em, hate 'em, hate 'em all!" ISIS and Islamic terrorists got their turn with "Sikh to Shiek" sung to (of course) "Cheek to Cheek." Their reworking of a Diana Ross classic led to the lesson, "If you can't feel good, make someone feel worse…reach out and judge your fellow man, make this world a bitter place if you can."
As hilarious as all this was, and believe me, it was, what held the evening together was the vocal talent on display in this entirely a cappella presentation. Even in the silliest numbers, the harmonies were never made light of. This is a tight, talented quartet that in other circumstances, with other songs, could hold an audience with a straight-ahead musical show, with or without the flamboyant dresses and wigs. For better or worse—no, definitely for the better—The Kinsey Sicks have chosen to use their powers for other, more timely pursuits. While they may have been preaching to an already aware choir, the sermon they presented was chock full of sidesplitting jokes, sharply observed, scathing satire and wildly outrageous assaults on the Republican establishment, and, as I mentioned, fantastic vocals. Who could ask for anything more in an election year?
"Electile Dysfunction"
Metropolitan Room  –  April 10
Category: Reviews