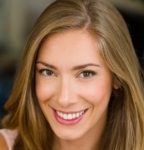 Awkward, Tamra Paselk's recent show at Don't Tell Mama (directed by Casey Burden), answered a few questions: are those high-rise pants that are coming back into style a good idea? YES. Should all performers hand out frozen treats at their cabaret? A thousand times YES. The bigger issues, however, were left somewhat unresolved. Since death is probably the ultimate big issue, when you tackle a theme of that size, you might feel puny, human, and well…awkward. Thus, her title. Paselk has set herself a tough dual-themed task here: to link the intense grief from the loss of her father with her quirky side, which gets into situations such as having to urgently use the unfamiliar facilities in China in heels and an evening gown right before her performance—let's just say it was a moment that required more than just emotional balance. But there is a third theme at play here: Paselk's own character as a performer, showing beauty and classical training that shine in some moments with total assurance and seem to want to be more than awkward. So with these three powerful and potentially contradictory elements in the mix, keeping everything on track would require a firm hand.
Opening with the cheery bounce of Andrew Lippa's "Death Is Just Around the Corner" established a tongue-in-cheek relationship with her dark subject. Pianist and music director Eddie Schnecker got into the fun on the next selection, using the opening music of "Part of Your World" (Alan Menken, from Disney's The Little Mermaid) as the intro for Sondheim's "Every Day a Little Death." The Sondheim songs in the set were a nice choice for the grief theme, and they were a good fit for Paselk's musicality, vibrato, and bright legit soprano. She showed articulation and rhythmic mastery in fast passages, such as those in "Everybody Says Don't." You could hear her musicianship, which clearly goes beyond being a vocalist—her bio supports this with the information that she's also a proficient pianist.
She has several colors to her voice, and at times it sounded as though she hadn't made a firm choice as to which she was using for each piece. The problem with bringing all that bel canto training into a small room is that a couple of times her "money note" was a blast from a whole other sound than what she was using for the rest of the song; I had the image that she was driving a high-performance car and didn't expect the sensitive pick up when she stepped on the gas. "Let It Sing" (Jeanine Tesori, Brian Crawley) sounded as if it was reaching for pop and soul influences that didn't quite land. But her soulful, quiet performance of "Blackbird" (Lennon-McCartney) with Brian Cooper on guitar did not have that problem, as Paselk balanced gently on the edge of a fresh, folky soprano almost toward the sound of a young Joni Michell or Joan Baez. Another example of Paselk's beautiful handling of her mix voice, "The Sun Still Rose That Day" (Michael Kooman, Christopher Dimond), also with Cooper on guitar, had the feeling of an unfolding fairy tale.
Guest singer John Ramsey brought great energy to his solo of Carol Hall's "A Change in Me." He's one of those people who look and sound so at ease on stage that you can relax for them, and his confidence was balanced by an equally generous way of connecting with other performers.
On the adorably human end of things, Paselk shared a couple of remedies for sorrow: The Golden Girls and ice cream, and provided both during the show. She and Ramsey did a duet of the song "Henny Penny" from an episode of the TV show, and although no one could rival Betty White in a chicken suit, Paselk and Ramsey did a funny kick-line finish; her team later handed out Popsicles and ice cream sandwiches. The gift of the snack was an outside-the-box way of bringing the audience into contact with our own inner messy kid. Also fun was the group sing-along, with lyric sheets, to the encouraging sway of "Weather the Storm" (Benjamin Scheuer). A pairing of John Bucchino's "This Moment" and "A Piece of Sky" (Michel Legrand, Alan & Marilyn Bergman) was intriguing, going from themes of general impermanence to the specific reference of the loss of a father. There were a few goofy "hi mom" moments, as Paselk's mom in Texas was one of many watching the Facebook live stream, but I wondered whether the stream might be taking her out of the immediacy of the room and whether it was difficult to work with such a personal topic with a second, remote audience.
The overall flow of the show would have benefitted from more attention. Even though this sounds counterintuitive, we need a certain amount of calm in the structure to truly take in the frayed edges of living with sorrow and feeling imperfect. Ramsey and Cooper were both great guest artists, but moving them on and off the small stage multiple times started to break the through-line, as did the insertion of patter into the middle of some songs, or the embarrassing-moment anecdotes somewhat unevenly popping up between songs. It's a comic-tragic blend that is so true to experience, but difficult to weave coherently into sixty minutes.
When Paselk owns her diva side and has fun with it, there's a punch of truth there that will probably develop even further in her next few cabaret performances. In "I Don't Care" (Harry O. Sutton, Jean Lenox), Schnecker on piano discretely started a few flourishes that comically built to drowning out the singer and totally upstaging her; Paselk retaliated by running over and slamming the lid down on the keyboard, yelling: "I'M the STAR!" We saw her enjoying this stealthy "third theme" of the show: her star quality. For all the truth, dry wit, and comic instincts Paselk displays in those awkward stories, it would be great to see that diva invited to the party as well.
Awkward
Don't Tell Mama — September 13, 17
Category: Reviews