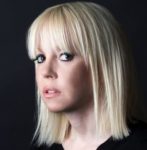 When I entered Pangea on the Lower East Side to see Tammy Faye Starlite's show She Comes in Colors, little did I realize that I would be witnessing a 2018 reincarnation of a Warhol superstar. Her slightly exaggerated look with platinum hair, shockingly red lips, blazing eyes, and high-drama voice would fit in perfectly on a crazy night at Max's Kansas City with the likes of Holly Woodlawn, Candy Darling, Joe Dallesandro, and the other denizens of Lou Reed's "Take a Walk on the Wild Side." That said, as a cabaret performer in a new century she is sui generis. Her wildly emotional, stunningly smart and funny diatribes and observations provide a cushion upon which she places witty, exciting, and stark interpretations of the Mick Jagger/Keith Richards songs from the Rolling Stones classic, if lesser known, album Their Satanic Majesties Request, which was greeted with decidedly mixed reviews upon its release. Starlite sets out to give the material its due and succeeds more than anyone might have guessed possible.
After an invocation/prelude perched upon the piano, she does the opening song of the recording, "Sing This All Together," exhorting the audience not only to witness the show but to participate in it. "2000 Man" benefits from a little taste of Jagger-esque movement, but throughout the show her physicality is a vital addition to her verbal, vocal, and emotional arsenal. "She's a Rainbow" (from which the show derives its title) is delightfully sung and danced with even more uninhibited Jagger moves than earlier in the show. Here and throughout, she and her cohorts set the lyrics in new settings and arrangements, giving us fresh insight into the material and making it more vital and entertaining than on the original LP. This is song interpretation and personalization of the highest order. "In Another Land," Rolling Stones bassist Bill Wyman's sole contribution to the album, is given a wink and a nod by having Starlite's bassist, Jared Michael Nickerson, take the lead. In the one non-Stones moment, the singer channels part of Jefferson Airplane's "Somebody to Love," which morphs into wordless runs of notes that seem like nothing less than singing in tongues.
The band (Keith Hartel on acoustic and electric guitar and vocals, Rchard Feridun on electric guitar and electric sitar, Nickerson on bass and vocals, Ron Metz on drums, Craig Hoek on sax and flute, and David Nagler on keyboards) manages to achieve a remarkable level of power, subtlety, and grit on the tiny stage at Pangea. Their costuming is an eye-popping pastiche of late '60s psychedelia. They look like they're having a ball.
It is not meant at all to be a slam to admit that the songs seem almost secondary to the constant barrage of cultural, political, and social comments. The references run fast and furious—from William Blake to Jim Morrison, Ray Bolger to Mila Jovovich, Isaiah:37 to Game of Thrones, Action Jackson to Zeljko Ivanek, Hannah Gatsby to Lawrence O'Donnell. She single-handedly revives the word trippy and claims it as her own. Tammy Faye Starlite might not be everyone's cup of tea, but those willing to drink from that cup are in for a thought-provoking, laugh-out-loud, jaw-droppingly audacious investigation of 2018 culture viewed through the prism of 1967 rock  & roll. I had a blast!
She Comes in Colors
Pangea – October 4, 11, 18, 25, November 8
Category: Reviews