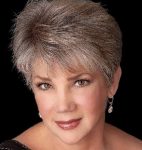 Don't Tell Mama
Monday September 16, 7:00 & 9:30 pm
How's  That for Openers?
On September 16, 1986, singer Sue Matsuki made her debut at Don't Tell Mama. She's decided to celebrate the first 33 years of her career with a program consisting of opening numbers from many of the shows she's done during this period. Accompanying her will be her longtime music director Gregory Toroian on piano, Ron Tierno on drums, and David Finck on bass; Lina Koutrakos directed.
Since her debut, Matsuki has gone on to become a prominent figure on the New York cabaret scene, both on- and off stage. As an artist, she's performed on numerous cabaret stages and garnered ten MAC Award nominations and three MAC Awards, and she was the first recipient of the Julie Wilson Award, presented by the Mabel Mercer Foundation. Off stage, she's served on the MAC Board of Directors and has been active as a writer, teacher, reviewer, and producer. Most assuredly, accomplishments worth celebrating.
Category: Bistro Picks