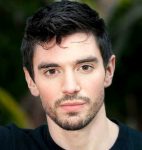 Steve Grand—a singer and model from the Chicago area—writes and performs pop songs, some with a country edge, about being young and gay. He's attracted a following, in part because of the music videos that illustrate his recordings. He is especially known for his song "All-American Boy," which is about falling in love with a straight guy. The 2013 music video for this song features a lot of homoerotic frolicking, including a skinny-dipping scene. Understandably, it attracted some attention.
At the recent performance of Grand's that I attended at the Laurie Beechman Theatre, the overwhelming majority of audience members were male, and many seemed to know his repertoire (including his lyrics) well. He stepped onto the stage dressed casually in a T-shirt and jeans with suspenders. Accompanying himself on the guitar, he opened with "Stay," which he wrote for his debut album in 2015. It's a standard-issue pop number with a sexy vibe. His second number was "Soakin' Wet," written with Andrew Allen, James Gabriel Morales, Matthew Morales, and Dave Rodriguez. A bit more up-tempo and playful than his opener, it included some of the "oh-oh" vocalizations that seem to be requisite in pop songs nowadays. At one point, the word "wet" came out something like "Weh-eht-oh-oh."
His voice is strong, and he often sings without much vibrato at a high volume, which occasionally creates a strained sound. When he sings more softly, his voice can take on a plaintive, breathy quality. After a few numbers, he put down the guitar and moved to the piano. He seemed fully at ease on both instruments.
What followed was a mix of his own material and covers, including "Crazy Little Thing Called Love" (Freddie Mercury), "Old Man" (Neil Young), and "Born This Way" (Lady Gaga, Jeppe Laursen). His covers never veered too far from the arrangements that made the original recordings popular. He might consider playing with rhythm and tempo, or otherwise changing things up a bit when performing other performers' hits. While his original material depends on familiar musical hooks and lyrical tropes, occasionally an unexpected chord or attention-grabbing turn of phrase will stand out. "Disciple," one of his songs from his second album, Not the End of Me, brims with provocative lyrics that blend religious imagery with sexual violence.
Grand can be quite likable. But he has a way to go in terms of stage presence. His attitude at the Beechman was alternatingly cocky and self-effacing. Mostly self-effacing. He kept apologizing—for flubbing lyrics, for being nervous in front of a New York crowd. Too much of that is a real no-no-oh-oh. He needs to work more on the narrative passages of his show. He told one personal anecdote (about being fascinated by pianos as a small child, thanks to the Peanuts "Schroeder" character) that was quite charming. He needs more of that sort of thing: stories that let us know what makes him tick. He should restrict the number of times he invites audience members to join him at the back of the club for post-show pictures and merchandise purchasing to one.
Although it took place at a cabaret venue, Grand's act was really more of a pop show than a cabaret show. He didn't build his act to work as a theatrical experience. He merely sang a string of songs. He should know that he would be welcome in the cabaret world should he ever want to head in that direction.
One thing that makes cabaret shows different from other shows is that, customarily, their audiences are used to being silent and attentive during performances. Grand was bedeviled by noisy attendees at the Beechman show. Particularly distracting was a woman seated front and center who kept chatting loudly at her table mates while he was singing. One of Grand's best moments was when he came to the front of the stage, leaned down, and politely but firmly told the offender to hold down the noise.
Had this been a true cabaret crowd, her fellow audience members would have shushed this churl out onto 42nd Street in a matter of seconds.
Laurie Beechman Theatre – March 29, 30
Category: Reviews