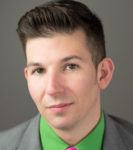 In his recent show at the Laurie Beechman Theatre, Golden Ticket: The Songs of Leslie Bricusse, Stearns Matthews demonstrated that he is working with an embarrassment of riches. Even more than possessing a sweet lyric baritone that testifies to a solid classical training, he radiated intelligence, integrity, and a love of music that he shared freely; his stage presence was one of a confidant, the kind of person you couldn't wait to have movie night with.
Leslie Bricusse provides a wealth of songs to choose from, drawn from stage and film musicals, as well as movie themes. With the amount of recognizable material he's created as a composer, lyricist, and librettist, both with and without his 1960s-'70s writing partner, Anthony Newley, he should be a household name, yet somehow he isn't—so his songbook is well worth exploring. Opening with a medley of "Feeling Good" and "Gonna Build a Mountain" (both by Bricusse, Newley), Matthews came in shaking off a few nerves but landed on his feet. His patter was warm and engaging, and his sharing why the songs mattered to him made them matter to us. Many of the songs in the show are nostalgic, either intrinsically or because of sentimental movie memories; these personal and very funny stories about how the songs came into his life and how the web of people he cares about are part of that, provided them with a touching framework. I appreciated being reminded that Keanu Reeves was in the 1986 film musical version of Babes in Toyland and hearing the story of how it came home as a VHS tape and became an instant classic in the household. Matthews's rendition of "C-I-N-C-I-N-N-A-T-I" (Bricusse) from the film was articulate and spirited.
Musical Direction and piano accompaniment by Warren Helms brought in another thread from the singer's past, as Mr. Helms was a music teacher at his school; their working together again now represents a full circle. Both of them have lived through their respective challenges of that time (who's to say whether it's more of a struggle being a teenager or a teaching artist?) and their duet of "You and Me" (Bricusse, Henry Mancini) made an adorable buddy song, complete with Matthews's classroom-instrument melodica solo, which brought a sweet and goofy quality to the collaboration. It's hard not to want to sing "Goldfinger" (John Barry, Bricusse, Newley), especially if you're a Shirley Bassey fan; Helms and Matthews kept their arrangement stealthy and subtle, befitting the introduction to a spy movie and offering a well thought-out departure from the classic bombast of George Martin's original arrangement.
"If I Ruled the World" (Bricusse, Cyril Ornadel) allowed Matthews to show his range; he did a great job with the rhythm of the song's many triplets while keeping the aspirational lyrics sounding authentic and contemporary. His performance of "Look at That Face" (Bricusse, Newley) was an openhearted love song to his husband. One of the most widely known Bricusse/Newley collaborations, "Pure Imagination," from Willy Wonka and the Chocolate Factory, was a satisfying choice to close the show, as it tied-in some of the happy childhood themes of the evening and sent us out inspired by the idea of infinite possibilities.
A drawback to performing with this kind of genuine positivity is that it needs contrast to truly shine; a series of sincere ballads back-to-back in the second half of the evening began to wash together. Then, after Matthews had strongly established a loveable personality on stage, "What Kind of Fool Am I?" and "The Joker" (both Bricusse, Newley), with their hurt and humiliated themes, almost belonged to different characters from the ones we'd met in Matthews so far that night; it became hard to believe him as he sang about not being able to love. Some tweaking of the set order might be beneficial, as well as a few more nights on stage to let the performance really hit its stride. This show could indeed be a golden ticket; I hope we get to see another incarnation of it.
Golden Ticket: The Songs of Leslie Bricusse
Laurie Beechman Theatre – February 17, April 4
Category: Reviews