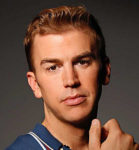 Singer-songwriter Spencer Day has begun a once-a-month residency at The Green Room 42 in celebration of his new CD, Angel City, which, as you might guess, is a tribute to and contemplation of Los Angeles. Given that premise, it is fitting that the overall feel of the show is very '60s/'70s West Coast jazz. The music is mostly laid back, cool, and played to perfection, and the lyrics harken back to a sophistication and noir feel that is all too rare these days. Apart from his originals, there are some well-chosen covers that sustain the mood as well. This classic jazz sound is due in part to the smooth playing of Noah Garabedian on bass and Adam Moezinia on guitar, which provides a wonderfully stylish cushion for the vocals. Day's occasional piano is equally impressive.
Although most of the set is centered on the City of Angels, he starts with a medley of his hit single "Till You Come to Me" and "Moon Over Manhattan" in a nod to his audience at the club. There's an infectiously jive-y feel to this pairing that conjures a Harlem nightclub. It's a perfect opener. Then follows the title song of the CD, "Angel City," a wonderfully cinematic take on hopeful illusions and dashed dreams, with a chorus that begins "I believe in the Hollywood ending…" On the recording, the film score quality is intensified with a full horn section, but the song is equally successful in this hushed, intimate arrangement for guitar and bass.
"Poor Marie," a delightful detour into a more legit sound, is a number from a score he wrote for a London burlesque show. "Stupid and Young," which he is debuting, showcases Day's ability to fashion an unexpected and light-hearted lyric and still manage to invest it with some emotional heft; it is a definite keeper. "California Yes" (Day, Cliff Goldmacher) ventures into bittersweet Randy Newman territory with great success. "I Got Love (Gold Digger)" (Day, Jamie Tate) has that Mancini-esque reserved swing that helped to define the Hollywood jazz scene. Guest star Lady Rizo, after a bit of awkward patter that assumes a knowledge of and interest in the downtown star that the audience does not necessarily share, acquits herself quite handily on the haunting musical tale of "The Ghost of the Chateau Marmont" (Day, Goldmacher), but her rendition does not quite match the story-telling magic of Day's performance on the recording.
"Spring Can Really Hang You Up the Most" (Tommy Wolf, Fran Landesman) is a natural addition to this selection of songs, and Day's version swings more than most. It's a pleasantly shiny surface, but I do hope that over time he can get inside the song a bit more.  He has great fun (as does the audience) with Elle King and Dave Bassett's "Ex's and Oh's." The standard "On the Sunny Side of the Street" (Jimmy McHugh, Dorothy Fields) is given a splendid reading. The one musical misstep of the evening is the inclusion of two medleys of standards that are neither inventive nor pointed enough to warrant their inclusion. One is a tired "places" grouping that goes on for too long and creaks right from the beginning. The other is a "dreams" medley filled with songs I would love to hear him sing in their entirety, but that in the medley get lost in muddle. These time-wasters get in the way of the otherwise enjoyable performance.
Between songs, Day easily wins over the audience with a kind of Jimmy Stewart aw-shucks charm that is ingratiating. His singing, his writing and his appealing persona add up to a very entertaining show, and an addictive CD. Recorded at the legendary Capitol Studios, with a full orchestra and background vocals, Angel City strikes me as an immediate classic. I have been playing it a lot.
The Green Room 42 – May 18, June 22, July 20, August 17, September 21
Category: Reviews