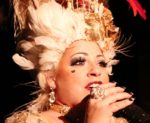 Singer/comedienne Shelly Watson takes the stage at the Laurie Beechman Theatre as equal parts Sophie Tucker, Bette Midler, Dolly Parton, Beverly Sills, and a drag queen (in this case a female drag queen). She's been hosting burlesque evenings at the same venue for a while, so her loud, bawdy style is easily traced back to that experience.
Her voice is remarkable, whether she's doing country-western (which she does a bit too often), pop, standards, theatre, or opera. She could easily build a whole evening with just her hilarious "bull in a china shop" exploration of her opera roots and her zany reworkings of hip-hop and rap material, re-imagined as arias. In fact, I wish she had done just that. She created and hosted "Hip Hopera" on radio for 13 seasons, and over that time has perfected this concept, so the opera segment of her show works like gangbusters. She can impress one moment with beautifully sustained vocals, then turn on a dime and split sides with some multi-octave rapping or a skewering of the high-toned posturing of the opera world.
Numbers like "I'm Tired" (Mel Brooks, from Blazing Saddles) and "I Never Thought I'd Break" (Peter Allen, Dean Pitchford) work as well; however, the overlong show, although following the announced concept of presenting the musical influences that have brought Watson to where she is today, seems a bit scattershot. Her singing tends to be centered on commenting and surface effects rather than getting inside the material. It's as if she were afraid to take it all too seriously because she doesn't trust herself to stray from her bigger-than-life comedic side. She never really lets the "brassy broad" persona disappear except in the classical material.
In language and physicality, she too often pushes past bawdy into crass and crude. Rubbing her crotch once would have been too much but she continues to do it throughout the show, at times following it with sniffing her fingers. This may be a misguided holdover from the burlesque connection, but it is more off-putting than hilarious.
This is all the more disappointing because she doesn't need it. If she would drop the tasteless asides and concentrate on the musical comedy and her glorious voice, Shelly Watson just might be able to rise to the level of her influences.
Laurie Beechman Theatre  –  January 15, February 23, March 19, April 16
Category: Reviews