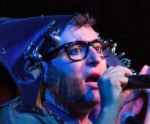 Pangea
Wednesdays May 23 – June 27 , 7:00 pm
Transforming himself completely with each new show, the brilliantly creative Salty Brine returns, this time with I'm a Lot Like You, the 17th edition of his Living Record Collection series. Each entry in the series cunningly and fascinatingly interweaves performances of all of the songs from a seminal or iconic recording, analyses of the recording and of another, quasi-related artistic work, and personal reminiscences and revelations. His analyses are not only trenchant, they are frequently very funny.
In this new show, the recording is the 1996 alternative rock album Pinkerton, by Weezer, and the other artistic work is Puccini's Madama Butterfly. The show is directed by Shaun Peknic, with arrangements by Alex Thrailkill and Mike Brun, music direction by Thrailkill, and integrated accompaniment by a five-person band of multi-instrumentalists. Costumes are by the delightfully imaginative and resourceful Heather McDevitt Barton.
To read how he stunningly pulled off a similarly improbable assignment, see our review of one of last year's offerings, Welcome to the Jungle, by clicking here. Brine received a 2018 Bistro Award for Creative Artistry.
Category: Bistro Picks