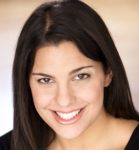 If you go to a cabaret show in 2017, there's a fifty-fifty chance that the concept will be "how I got to New York and what I did to get a job in show business." Sally Schwab of The Marvelous Wonderettes takes that contemporary cliché and runs with it in the riotously funny Adventures in Babysitting currently at the Laurie Beechman Theatre.
The title refers to Schwab's go-to survival job as she maneuvers the irritating and repetitive world of auditioning to get even the smallest part in a show. The families for whom she has worked provide a hilariously satiric view of the wacky denizens of New York City: the vegan Buddhist family, the nudist family, the Christian family, the swinging family, and on and on.
Playing a dizzying array of supporting characters and offering great song-and-dance support are a trio of attractive, talented men—Dylan H Thompson, Alex Ringler, and Gregory Sullivan—all with Broadway and/or off-Broadway credits. Director Tom D'Angora, who co-wrote the show with Schwab, keeps things moving brightly and creates some memorable comic set pieces. A foray into pet-sitting lets the boys bring a dog, a cat, and a bird to brief but funny life. They also score with a bit about the Camp Broadway Summer Tour with inappropriately young kids in "Rent Junior." A bible story told to three impressionable and increasingly confused children filtered through Schwab's clueless delivery is a surefire laugh-getter.
After opening with a surprisingly appropriate and endearingly lighthearted medley of the themes from The Mary Tyler Moore Show and Alice, Schwab presents a selection of recognizable pop and Broadway songs, usually tweaked with parody lyrics, to accompany her reminiscences. Music Director Tracy Stark offers witty and wily support on the numbers and underscores the comedic possibilities throughout the show. One running bit about using "What I Did for Love" (Marvin Hamlisch, Ed Kleban) for each and every audition gets funnier each time it reappears.
Schwab has a big, expressive voice and a madcap persona, but the two don't always blend in the most advantageous ways. Sometimes "loud, loud, loud" can be at odds with "funny, funny, funny." She too often chooses to go for a big, held note for vocal effect rather than going for the comedic payoff. Also, mic technique is lacking in much of the show; it's a frequent complaint of mine that singers hold the mic too high and block their mouths and faces from the audience.
But she is a good singer and a very funny comedian. At its best, the show has a Hellzapoppin' energy that is a delight. These adventures in babysitting are for the most part great fun to share with this talented performer.
Adventures in Babysitting
Laurie Beechman Theatre  –  April 3, 17, May 1
Category: Reviews