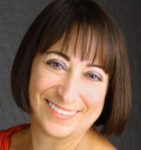 A "concept" in cabaret is a tricky thing. It can be an elaborate and complex narrative or character that permeates every moment of the show. It can be a tribute to another performer or to a songwriter. It can be a loosely structured through-line that might reach the audience only subliminally. Or a show can succeed entirely without a concept, as a personal concert of songs.
What is one to make of The Adventures of Taffy Longvue, the show by singer Robin Westle, directed by Eric Michael Gillett, which recently played a return engagement at Don't Tell Mama? Its concept is referred to in every patter break: you can create a drag name from the name of your first pet and the street where you grew up—and thus, Westle came up with the name "Taffy Longvue," and with the name came the awakening of her "inner drag queen," which released her inner "fabulousness." Leaving aside the questionable idea that a woman can be a drag queen, the main problem with the concept was that we never witnessed a transformation. Taffy and her fabulousness never appeared.
Westle is a decent singer with a strong if somewhat brittle sound that can be effective, especially on the warhorses—like Jerry Herman's "I Am What I Am," "Ring Them Bells" (Kander & Ebb), and "Look What Happened to Mabel" (Jerry Herman again)—that peppered the first half of the show. However they were presented in such a direct, square style that personal expression was stifled. Her sound, itself, proved less effective in gentler songs—like Malvina Reynolds's "Little Boxes" and Amanda McBroom's "Ship in a Bottle"—that required a degree of warmth that just wasn't there.
Since she was costumed in a tuxedo jacket, vest, white dress shirt, and slacks, I thought for a time that maybe Taffy was, instead, a drag king, but such was not the case. In Herman's "A Little More Mascara," two back-up singers entered, positioned themselves on either side of the singer, and pulled apart the outer, velcro'd garments to reveal what appeared to be a provocative red satin bodice beneath. It was hard to tell because Westle never removed the jacket, vest, or shirt, but merely let them hang open, obscuring the costume. This was an unintentional symbol of what was wrong with the show. She never set Taffy free. The performance was reined in and restricted.
Her vocals and her energy didn't change after the big reveal; it was the same singer we had watched for the previous half hour. What did change was the song selection, substituting current "hits" for the older material. She and the back-up singers (who had been given little to do and provided negligible support) were clearly uncomfortable with the newer numbers, a discomfort that reached its nadir in a blessedly brief R&B rap in "Independent Women" (Beyoncé Knowles, Samuel Barnes, Cory Rooney, Jean-Claude Olivier). "The Fame" (Stefani Germanotta, Martin Kierszenbaum) put another nail in the coffin of Lady Gaga as a source of cabaret material: however "catchy" her fans might find it, the song's lack of melody and wit became woefully apparent on the intimate stage.
"Tear Up the Town" (Brian Lasser) and "Over the Top" (Dick Gallagher, Mark Waldrop) might have made an ideal fiery close had the promised fabulousness actually shown up and heightened the energy. They are songs that would be a good fit for the singer under other circumstances. At times in the patter and some of the earlier songs there were hints at how entertaining the show might have become without Taffy Longvue, but as it was, Robin Westle was overwhelmed by her concept.
The Adventures of Taffy Longvue
Don't Tell Mama – October 22, 29
Category: Reviews