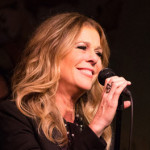 The sixties ushered in a number of changes in the world of music: the British invasion, folk music, Motown, and many others.  One of those changes, the rise of the singer/songwriter, turned out to be a surprising double-edged sword. While it celebrated artists like Bob Dylan, Joni Mitchell, Jimmy Webb, James Taylor, Elton John and so many others, it also marked the end of the predominance (at least on the airwaves and in record sales) of "cover artists," even for such legendary singers as Johnny Mathis, Frank Sinatra, and Ella Fitzgerald. Company heads, producers, audiences, and often even the performers, themselves, bought into the theory that singing someone else's material was somehow less important, less relevant than doing original material. To translate this misguided notion to the world of film, imagine Meryl Streep being told, or demanding, that she would only appear in projects that she had written.
This was disconcerting, to say the least, for someone like me who loved hearing how good singers would take a song and, through interpretation and arrangements, make it their own. Rita Wilson's debut CD, "AM/FM," released a couple of years ago, was filled with delightful, wonderfully sung covers of sixties songs that she remembered from her radio-listening youth. It remains one of my favorite recent recordings and I still listen to it regularly. She has a new CD coming out next month, and she is celebrating the release with an engagement at one of New York's most prestigious music rooms, the Café Carlyle. It is an album of songs she co-wrote with a number of other songwriters, and it was the source of most of this show.
Wilson is a charming, bright, warm singer who is immediately ingratiating both when singing and in her between-song patter. She is thoughtful, dramatic, and funny when necessary in her story telling and delivery of lyrics. Anyone who has enjoyed her work in film, television, or theatre will come with high expectations and will not be disappointed. With a few exceptions, the songs are solid, if generic, pop-rock material. Her singing cannot be faulted, but what she is singing is overly familiar. They are the kind of songs that give away what they're about in the opening verses and get through the rest predictably, albeit entertainingly, with some words that almost rhyme and a lot of well-worn chord progressions.
Her opener, "Crying, Crying" (w/Dan Wilson) followed immediately by "Talking to Me" (w/ Michael Blue, Lauren Christy, John Lindbrandt), calls to mind '70s and '80s soft rock and fits her voice well. An infectiously poppy number called "Lucky Girl" (w/Kristian Bush) is another winner. "Strong Tonight" (w/ Kelly Archer) has some of the best original lyrics of the show: "I just wanna have a breakdown. I don't wanna be strong tonight. I just wanna let my heart ache."
Her band's contributions and the arrangements are, in the main, equally solid. However, Steve Fekete is featured prominently on guitar, and while his playing is fine, his background vocals are unnecessary and at times intrusive. This has nothing to do with his voice. It's merely that Wilson's voice can handle this material quite handily without a vocal assist, and the second voice adds an even more generic feel to some of the songs. Rob Mounsey is good on keyboards, but I would have preferred a bit more acoustic and a bit less electric. Again, it would have given the music a more distinctive sound.
Given what I have written so far, it is not surprising that I found the covers she did choose to include in the show the very best moments of the evening. Her medley of Bob Dylan's "To Make You Feel My Love" and "I Can't Make You Love Me" (Mike Reid, Allen Shamblin) is sincere, understated and heartbreaking. Like a good medley should, each song illuminates the other in interesting and unexpected ways. Wilson performs The Weekend's Number 1 song "Can't Feel My Face" (Ali Payami, Savan Kotecha, Max Martin, Abęl Tesfaye, Peter Svensson) as a funny take on plastic surgery in which she mugs hilariously: "I can't feel my face when I'm with you, but I love it…"
Perhaps for her third recording (and I do hope there is another) she could concentrate on contemporary songs as good as these and give them the same stellar treatment she gave the pop classics on "AM/FM." In her current show, the material ranges from good to great, but Rita Wilson's performance is simply great.
Café Carlyle  –   February 23 – March 5
Category: Reviews