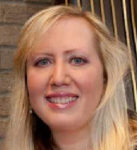 Renee Katz's story is indeed remarkable. On June 7, 1979, a crazed person threw the 17 yr old flutist in front of an E train. She managed to survive by rolling off the track at the last minute, but her hand was severed. Doctors succeeded in reattaching the hand, and over time, with much media attention (including being immortalized in the song "The Message" by Grandmaster Flash and the Furious Five), she was able to return to her music career, this time as a vocalist. She was championed by columnists, performers, politicians and others, and her popularity and inspiration grew as her vocal talent matured.
She has chosen the medium of cabaret to relate her inspiring life in a show called Never Been Gone, seen recently at Don't Tell Mama. The title song, by Carly Simon and Jacob Brackman, was a perfect introduction to the evening, capturing her struggle, her triumph, and her hopeful outlook for the future. By the end of her second number, "I Want to Ride the Ferris Wheel" (Alan Menken, Victor Joseph), she had made her point, but her patter and subsequent song choices tended to belabor it.
She also recited poems she'd written in response to her circumstances, but they tended to push their message in blunt, obvious ways rather than illuminate that message with subtle, artful wordplay. The poems and patter begin to resemble mini-TED lectures more than simple conversation between the artist and audience. The enjoyment we might have experienced in the musical performance was overshadowed by her insistent attempt to inspire. Her spoken words were often so "on the money" and obvious that we didn't really need to hear the following song.
Accompanied by the always-welcome piano of Tedd Firth, she displayed a sweet and strong soprano on such songs as "I Could Marry the Rain" (Peter Allen) and "The Human Heart" (Stephen Flaherty, Lynn Ahrens). Too often, though, the dynamics varied so little from song to song (soft start then belted finish) that it seemed as though we were experiencing the same moment over and over. Even Katz's physicality repeated in each song; not every song needed to end with arm outstretched to the audience and head back in dramatic fashion. Director Rian Keating should have worked with her to bring more color and variety to the proceedings. She didn't even soften the approach on "Romance of the Children" (David Friedman, Zoelle Montgomery), which could have been a standout with a more thoughtful presentation.
The inclusion of several quotes from laudatory newspaper articles about her came uncomfortably close to self-congratulation. A slide show presented photos of some of the actual headlines, articles, and people involved (not a bad idea), but interwoven were pictures of flowers and things that were a mawkish and unnecessary addition to what we were hearing.
Her closer, Rodgers and Hammerstein's "The Sound of Music," should have been a stirring and triumphant last statement; instead, it duplicated the feelings engendered by the opening number, as if she had been running in place for the hour. She needs to decide whether she wants to be a singer with an inspirational show or a lecturer who occasionally sings. As it is, Never Been Gone falls too strongly into the latter category. This is disappointing because Renee Katz is a likable, talented performer.
Never Been Gone
Don't Tell Mama  –  June 11, 18, 25
Category: Reviews