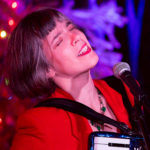 Much has been written, reported, and broadcast about the celebrity death toll in 2016. While it is probably not substantially different from previous years, it did seem that a disproportionate number of major figures left us. I doubt that there has been a more personal, smart, funny, touching celebration of the artistry and legacy of those who have passed than Rachelle Garniez's "Farewell Party" at that downtown hotbed of cabaret artistry, Pangea.
The singer has a voice like no other, flowing from growling lows to Yma Sumac highs and never losing track of the lyrics and story as she displays her vocal prowess in unique and surprising ways. On various songs she plays piano, guitar, and (most often and most wonderfully) accordion, receiving brilliant support from Derek Nievergelt on bass and Karen Waltuch on viola. A couple of instrumental moments had stunning impact. The beauty of what Garniez called the show's "underture" created a gentle, somber, elegiac mood that set a tone for the evening right from the start. The arrangements for the vocal numbers were so specific that at times it seemed that she was magically bending the sounds of the instruments to be extensions of her voice.
One positive side of the tragedy of all those deaths is that the material at hand is incredible. The choices still managed to be generally unexpected and totally appropriate to the show and the singer. Apparently, most of her shows are filled with original material, but she displayed such a sure and involving ability to make covers her own that I hope she pursues this avenue more in the future. I would be first in line for a "Rachel Garniez Broadway Night."
On a raw, unpolished "Pure Imagination"(Bricusse & Newley), accompanying herself on piano and whirling, rainbow-colored bell wheel, she delivered a vocal that was filled with childlike innocence. Switching to accordion, she used some Buckwheat Zydeco to get us into Prince's "Raspberry Beret"; I would guess that her solid phrasing opened up the lyrics of this well-known song for a lot of the audience. While everything was wonderfully personal, she seemed to have a special connection to the great singer Sharon Jones, which made "100 Days, 100 Nights" (Bosco Mann) a highlight. There were nods to everyone from John Glenn to Maurice White to Zsa Zsa Gabor. I didn't expect to hear "The Song from Moulin Rouge" (Georges Auric, Jacques Larue), which she sang in its original French and connected to an intriguing story about Muriel Smith, who dubbed Gabor's vocals in the movie. I particularly loved these arcane little asides that were peppered through the show.
She really dug into the lyrics of Leon Russell's "Tight Rope" and gave the line "…up on a tightwire flanked by life and the funeral pyre" special resonance. In a brief bow to the present political situation, she connected Mose Allison's "Monsters of the Id" to the current White House. The show closed with two great Leonard Cohen songs. First was "Anthem," made all the more haunting because she had placed bells strategically throughout the house, and at the chorus of "…ring the bells that still can ring," audience members added their sounds to the bell wheel on stage. It was yet another moment of homemade theatrical magic. Then came a beautiful "Dance Me to the End of Love."
"Farewell Party" was a very special show and Rachelle Garniez is a very special singer. I am eager to see what she does next.
"Farewell Party"
Pangea – December 28, January 31
Category: Reviews