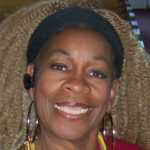 Lee Summers's Just A Piano concert series, now in its tenth year at the Triad Theater, recently presented Peggi Blu in Sinatra in Blu – If Sinatra Were Born a Black Woman, which she wrote.
A grand champion on TV's Star Search, Blue later became a vocal coach on American Idol, while continuing a career in theatre, concerts, recordings, and film soundtracks. Some musical historian might someday trace a direct link between the irritating excesses of Star Search octave-climbing and the over-the-top, empty riffing of American Idol wannabes through Blu's vocals.
This was a throwback to an old kind of show: an emcee/host who introduced the star in an overlong speech that was practically a sermon, filled with overstated praise for the singer. This "preachiness" continued in the patter throughout the evening, presuming a level of fame and familiarity that was questionable; near the end of the show, the patter descended into actual preaching, with intimations that she was there to bring Jesus to the audience.
The show seemed trapped in clichés—in mic technique (often dropping and catching it mid-song, and even mid-line), in arrangements (pianist Skip Brevis played solidly but neither personally nor inventively), and in vocal performance (why use a single note for a syllable when one could use three or five or ten?). The singer demanded that the audience clap along on a majority of the songs, which I found particularly distracting and off-putting. She also had a habit of beginning a song with "Here's what it says…" spoken over the opening notes.
This is all a shame because despite what I said above, Peggi Blu is a likable and talented singer. When she connected with a song, as she did with "All the Way" (Jimmy Van Heusen, Sammy Cahn), she personalized it in exciting ways. Bart Howard's "Fly Me to the Moon," on the other hand, broke under her overwrought attack, and was betrayed by some adlibbed lyrics making it a plea to God. A guest appearance by Charles Valentino (with whom she had starred in a road company of The Wiz) on two arbitrarily chosen medleys, in which the songs had no apparent connection except Sinatra, was charming at first but never really paid off. I wish he had been given one number of his own. His seductive vocals, reminiscent of Billy Eckstine, offered a promise that in this show remained unfulfilled.
The inevitable "New York, New York," complete with more clapping and a sing-a-long as she walked through the house, proved to be little more than filler rather than a rousing climax. Blu did abandon the Sinatra songbook for her encore, "I Made It Through the Rain" (Gerard Kenny, Drey Shepperd, Jack Feldman, Bruce Sussman, Barry Manilow). Perhaps because it was not connected with Sinatra, she didn't feel compelled to change it drastically. Her straightforward, thoughtful performance built to a legitimately emotional climax and presented a singer I wish I had heard for the entirety of the show.
Sinatra in Blu – If Sinatra Were Born a Black Woman
Triad Theater – December 3
Category: Reviews