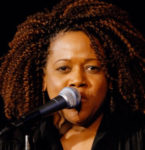 When it comes to singers, do we have to choose between a musician and a storyteller? Any well-realized choice along the spectrum from pure music to pure theatre can work for a vocalist, and in the best singers, it's hard to tell where one stops and the other begins. Paula West is that kind of singer. Totally present and at ease, she worked her ten-song opening-night first set at Dizzy's Club Coca-Cola from a stool center stage, letting her mic catch her, but not playing directly to it, treating the audience like a group of old friends who deserved a night out and a chance to hear some of what's been on her mind.
West's song choices sometimes step outside the jazz repertory, but they are eclectic only on paper. Antônio Carlos Jobim's "Waters of March" has lyrics that are a complex stream-of-consciousness inventory of objects and happenings that make life beautiful, tragic, and surprising. West brought a clarity that came from being right in the pocket of the bossa rhythm and bringing life to each word. "Cow-Cow Boogie" (Don Raye, Benny Carter, Gene DePaul) amicably loped along the dusty trail, and West barely winked while delivering such gem lines as "He was raised on loco weed." Surprising in its timeliness, a cover of John Lennon's 1971 "Gimme Some Truth" displayed sincere frustration caused "by neurotic psychotic pigheaded politicians," suggesting a resonance between the Nixon scandals of the early '70s and our current political climate. The arrangement devolved into a cacophony quoting George Martin's orchestra gone wild at the end of the Beatles' "A Day in the Life." West announced a song by her favorite songwriter, then launched into Bob Dylan's "Like a Rolling Stone"—another timely cover, it brought us freshly into the story that lays bare the hubris of a privileged soul adrift after a downfall.
Throughout, West's sensuous alto sound could dial up a sandy texture, float a long, sustained note, bite off a terse word, or groove like an instrumentalist. There were many gorgeous standards featuring the excellent work of West's band: pianist and arranger Bruce Barth, who seemed to be enjoying every moment, bassist David Wong, drummer Jerome Jennings, and guitarist Ed Cherry. Especially remarkable was their ability to support the vocals: even in solos when any one of them could have lit the room on fire, they kept their commentary within the song—and although playful and individual, they were still pointing back to West's next entrance. It's hard to single out any one of them because they were all so good, but Wong's dexterity in featured moments, such as the high-speed opening of their bebop rendition of "Lover" (Rogers & Hart), and his ability to ground the group in ensemble moments, was a standout.
The sound of the room, itself, sets the standard for other venues, and it was enhanced by the expert miking of the acoustic instruments—allowing the bass to stay round and mellow while cutting through, Jennings's drums to be heard from shimmering brushwork on the cymbals to a hard kick that wakes you up but never dominates, and the vocals always present, but not orphaned from the rest of the quintet. Someone smart with state-of-the-art equipment is working that live mix—it's as if they played jazz there every day. Oh wait, they do.
Dizzy's Club Coca-Cola, Jazz at Lincoln Center – Dec 1-3
Category: Reviews