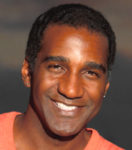 For the third year in a row, theatre, film, and TV actor-singer Norm Lewis is performing a holiday-oriented program at Feinstein's/54 Below. The opening night of this year's offering, Santa Baby!, appears to have brought out a group of his most ardent, demonstrative fans.
There's plenty to like in Lewis the cabaret performer—starting, of course, with the powerhouse baritone notes that Broadway audiences have grown to love and expect from him, in productions ranging from Side Show to Porgy and Bess to The Phantom of the Opera. Not surprisingly, his vocal authoritativeness works beautifully on a big dramatic song such as "Home" (Charlie Smalls) from The Wiz, which, he reveals, he'd used as an audition number early in his career. In some ways, though, his vocals are even more impressive on the plaintive, almost-whispered "Where Is Love?" (Lionel Bart) from Oliver! You know that he's keeping the lion's roar in check, letting us hear only the purr—and there's something intriguing in that. He has a warm and welcoming presence, and that killer smile of his doesn't hurt. He's confident, yet he projects a shy and slightly self-deprecating onstage demeanor. Again, that soft/sturdy dichotomy works to his advantage.
The show (directed by Richard Jay-Alexander) is informal and relaxed. Lewis sings a mix of holiday and non-holiday material. He opens with a rocking "This Christmas" (Donny Hathaway, Nadine Theresa McKinnor) and follows this with the show's title number. I believe this marks the first time I've heard a male performer sing "Santa Baby" (Joan Javits, Philip Springer). Lewis changes some of the lyrics, variously addressing the jolly one as "Santa Buddy," "Santa Papi," and—least gracefully—"Santa Pally." I don't find the song particularly effective when shorn of its sexy gold-digger innuendo. But the opening-night crowd lapped it up.
Among the songs unrelated to December holidays is a passionate rendering of the Marvin Gaye hit "What's Going On" (Gaye, Renaldo Benson, Al Cleveland), at the end of which Lewis calls out phrases from today's social and political landscape, including "Collusion!" and "#MeToo!" The arrangement and delivery of the number sound a lot like the Gaye original, but Lewis gives the performance his own theatrical spin. On two occasions during the song, he spreads his arms wide, momentarily clenching his fists, projecting both open-heartedness and defiance (and, perhaps inadvertently, suggesting a crucifix).
A couple of components of the show don't fully work. The point of a group sing-along on "Caroling, Caroling" (Wihla Hutson, Alfred Burt), in which Lewis duplicates errant notes from a recording he made decades ago, was never made clear, and Lewis seemed to discover on the spot that the lyrics he'd been singing on the number didn't match the ones printed on the audience handouts. Also, it seems a mistake to end the evening (not counting encores) with salutes to two entertainers that passed away in 2017—Barbara Cook and Robert Guillaume—however heartfelt the sentiments. Better to shift those segments to a point earlier in the set.
The evening, Lewis suggests, was patterned to some extent after 1970s TV variety shows, vehicles that Lewis expresses admiration for. He claims that as a kid, he even liked The Lawrence Welk Show and Hee Haw—something not many performers would stand front and center on the Feinstein's/54 Below stage to admit. On opening night, he talked also of the personal importance to him of variety shows headlined by fellow African Americans, including Flip Wilson and Clifton Davis. Then, right on cue, Davis (whom Lewis referred to as "still a stud muffin") turned up in person for a couple of numbers, including a duet on "The Girl from Ipanema" (Antônio Carlos Jobim, Vinicius de Moraes, Norman Gimbel), sung in both English and Portuguese. The two singers had a good-natured rapport, playfully kidding each other in an almost Rat Pack–ish kind of way. (Each performance in the run features a different guest artist.)
Lending instrumental support are musical director Joseph Joubert on piano, bassist George Farmer, and percussionist Perry Cavari. They play an array of musical styles, from soft rock to jazz to traditional Christmas classics, effectively yet unobtrusively. Cavari even has occasion to haul out jingle bells for the sleighing songs.
Santa Baby!
Feinstein's/54 Below  –  December 18 – 23
Category: Reviews