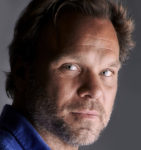 As a leading man in musicals, two-time Tony Award recipient Norbert Leo Butz has been very much a creature of his own era. He has appeared in six Broadway musicals since 1997, as well as in Off-Broadway's very successful The Last Five Years (2002). None of these shows was a revival, and all of them featured contemporary pop music—from the likes of Jason Robert Brown, Andrew Lippa, and David Yazbek. Throughout his professional career, Butz has seemingly kept a distance from shows with scores by Sondheim, Rodgers & Hammerstein, Harnick & Bock, and Frank Loesser. In fact, the only real "Golden Age" musical on his résumé seems to be a touring version of Kander and Ebb's Cabaret, in which he portrayed the Emcee. (Additionally, in 2002 he sang in a concert staging of Carousel.)
It's no surprise, then, that in his current cabaret offering, Memory & Mayhem (updated from a 2012 show) at Feinstein's/54 Below, he steers clear of classic show tunes, though he does include a couple of numbers from musicals in which he has appeared. "I Could Be in Love With Someone Like You" is a driving, up-tempo, comic love song by Brown that was cut from The Last Five Years and that seems to have filled the same function in that show as the superior "Shiksa Goddess." "Fight the Dragons" is a so-so selection from Lippa's Big Fish. Butz brings out the best in both songs with his keen theatrical sensitivity, storytelling talents, and considerable charisma. But he also uses his actor's skills on selections with no theatre ties. Nearly every song in this set has its own voice, its own character. Compare two of Butz's original compositions (both with a country-western flavor) that are sung back to back. The first, "Hotel Bride," is a plaintive number, heavy on falsetto. It's followed by "South Mountain Waltz," which is sung in a lower register and sounds as though it were coming from a completely different human larynx. On certain numbers he seems to slur lyrics intentionally, in order to imitate a slack-mouthed pop vocal style. Sometimes he bears down hard on his "R" sounds to suggest a particularly flinty character. On most of the ballads, his words are carefully enunciated and have the intimacy of confessional poetry. The best ballad of the night, arguably, is a tender rendition of Jimmy Webb's "If These Walls Could Speak." And his robust take on Hoagy Carmichael and Stuart Gorrell's "Georgia on My Mind" enlivens the audience.
The show's diversity is accomplished, in part, through the singer's collaboration with music director and pianist Michael J. Moritz Jr., who—with his five-piece band—helps provide a wide array of instrumental combinations. We get Butz (a) singing and playing electric guitar with the band, (b) singing with the band minus his guitar, (c) accompanying himself on acoustic guitar, alone, (d) accompanied solely by piano, and (e) accompanied by bassist (Larry Cook) and drummer (Larry Guardia). Moritz's rich, full arrangements conjure vivid pictures in a listener's mind. In the show's opener, Marc Broussard's "Home," I imagined tall cowboy boots stalking the unpaved streets of a frontier town—spurs jangling as a dust-caked rattlesnake coils nearby. "South Mountain Waltz" suggested the last dance of the evening in a grange hall, with the waltzing partners savoring the last lush measures of music. While there is, in fact, considerable twang heard throughout the evening, other songs stretch in the direction of jazz, folk, and rhythm-and-blues.
Butz takes a laid-back approach to the conventions of cabaret. He wears a jacket (for the first part of the show, anyway), but he pairs it with jeans. No one introduces him in drum-roll fashion at the top of the set—he just moseys to the stage and starts the show. He talks about his family and jokes about his unfortunate surname. He speaks about "themes" in cabaret shows, and says that he discovered his own only as the song list came together: all of the songs deal in some way with memories and the ways they last, change, or disappear. Throughout the evening, he holds the show together with this loose thematic binding—here and there touching on the "memories" conceit explicitly. He even riffs on the anatomy of the human brain at one point. But he doesn't hammer the theme to smithereens.
He makes it seem as though everything's off the cuff, even his jokes concerning the hippocampus and the amygdala, which certainly took some crafting. Butz reveals his credentials—as singer, actor, songwriter, and guitarist—with undeniable flamboyance, yet he comes across as humble and affable. The performer-audience connection is strong. In short, his performance is a study in grace. I recommend it enthusiastically.
Memory & Mayhem
Feinstein's/54 Below  –  September 8, 10, 12, 13, 14
Category: Reviews