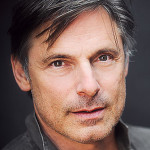 Nicholas Guest is the son of a British diplomat and brother to Christopher Guest (of Waiting for Guffman and Best in Show fame) and to New York Times writer Anthony Haden-Guest. He has appeared in numerous films, dating back to Trading Places and Star Trek II: The Wrath of Khan. His voice has appeared in even more, including Frozen and Tangled. And now, in "Finding Nick" at 54 Below, he tells us of his journey to find himself and his artistic voice in a globe-spanning tale that has all the elements of a great story but somehow falls flat.
His work in animation and anime is of particular note in viewing his show because that voice is the most rewarding and satisfying aspect of the show. He is particularly adept at pulling sharply observed accents out of thin air in the blink of an eye, whether it is his stuffy British father, or an officious Russian teacher, or a randy French librarian, or an Italian revolutionary. Ironically, it is his own voice that gets lost in the profusion of the characters with which he interacts. He meanders through his tale of how he got to be the person he is on the 54 Below stage like a Zelig, never interacting in a meaningful way but rather remaining a shadowy presence as he observes others.
Part of the problem is that the people who inhabit his story are strictly vocal creations; so much so that the show might as well have been a radio play. There is little physicality to differentiate the men and women and no sense of time or place established; the stories start and stop abruptly, seemingly mid-stream. As masterful as the voices are, there's a sameness to the presentation. He drops in names both famous (like Abby Hoffman and Jerry Rubin) and personal, but it remains simple name-dropping; they are never fleshed out. The one entertaining exception is his recreation of an acting class taught by the great William Hickey, perfectly capturing the wheezing, death-rattle whine of his voice as he pontificates on performing. There is a kernel here of what might have become a truly entertaining show on the birth and development of an actor.
There is some music in the show but the songs tend to be truncated into snippets. He has a pleasantly nasal, folky sound, but he keeps it too much in check, as if he were afraid he'd lose us if he tried to do a whole song. The show opens with Ed McCurdy's legendary "Last Night I Had the Strangest Dream," but four lines in, just as I was getting involved in his performance, it stops. The "repertoire" has songs in many languages meant to illustrate and illuminate the stories, but in their abbreviated form they become distractions; there is not a full number until the very end of the show. He picks up a guitar for each number but seconds later he puts it back down. It is becomes nothing more than a prop, as, sadly, do the backing musicians on guitar and cello. Perhaps he thought that since the show was being performed in a cabaret, music was required, but the show might have benefited from jettisoning the songlets and leaving more time to the characters and scenes.
Guest can be ingratiating, describing his brief involvement in Vietnam War protests as a way to meet girls ("I carried a sign that said 'Make Love Not War' although I had never actually made love") or surprisingly dramatic, giving us part of Dylan Thomas's Under Milkwood. But too often, as indicated above, things are sabotaged by "cabaretus interruptus"—few vignettes have a beginning and fewer still have a pay-off.
I gave a more-than-usual amount of familial and performing history at the beginning of the review. It was not merely to be informative. This show works best if you know all of that going in. It seems designed for an audience familiar with the intricacies of Guest's life and career. There was a table of friends and family that laughed and nodded in recognition at remembrances and characters that frankly left the rest of us bewildered. This is, unfortunately, not an uncommon mistake for a cabaret performer to make. Rather than treat the audience as a roomful of strangers, Guest relies on the crowd's supposed familiarity with his life and career to make his stories resonate and satisfy. Before bringing his daughter to the stage for a couple of awkward duets at the end of the evening, he finishes the show by relating each of his vignettes to particular characters and performances he has played (which, I would guess, was the genesis of "Finding Nick" in the first place). Again, that one table "got" all of that, but for the rest of us it was a litany of empty connections.
54 Below remains one of NYC's best cabaret venues, with terrific lights and sound. And there really isn't a bad seat in the house. All that said, perhaps it is not the best home for "Finding Nick." Future incarnations would be better suited to a small theater or, if the music remains, a folk club in the Village. It is out of its element on the stage at 54 Below.
"Finding Nick"
54 Below –  September 11, 12
Category: Reviews