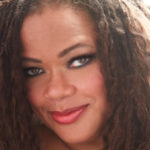 Ella Fitzgerald was arguably the premier female jazz and pop singer of the mid-20th century, certainly when it came to recordings and perhaps in live performance as well. Natalie Douglas clearly thinks so, and she made a very strong case for that premise in her recent remarkable Fitzgerald tribute show at Birdland.
At the top of her set, Douglas declared, "Ella was the queen. She could do everything, and twice on Sundays." For this overdue (and, alas, one-night-only) tribute, with some 200 Fitzgerald record albums and thousands of songs to choose from, "some we don't even know," Douglas culled a satisfying selection of fourteen numbers that displayed Ella's broad range of taste and her diversity of delivery. In the process of performing them, Douglas reinforced her own reputation as a longstanding and compelling interpreter of an impressive swath of composers and singers of the American Songbook—and beyond. (After all, in her fearlessly ongoing, roughly monthly, series of tribute one-nighters at this venue, her honoree last month was Elvis Presley, and next month it will be Shirley Bassey, followed in July by Cher.)
In this show, Douglas felt no need to imitate Fitzgerald in any way. For example, she didn't attempt any of Ella's trademark scatting. Nor did she pull back her own powerful voice to emulate Ella's slightly softer approach to the same material. Occasionally, and accidentally I'm sure, Douglas sounded a bit like Fitzgerald in the lower registers they shared. But what the two women undoubtedly had in common was, as Douglas noted, an underlying hopefulness that could creep into their presentations, even when they sang the saddest of ballads. Consider this instance: "It Never Entered My Mind" (Rodgers & Hart). Whenever Fitzgerald sang it, and when Douglas did in this tribute, there was the subtly hopeful suggestion that she just might find love again—someday. Hearing the more popular Frank Sinatra version, on the other hand, we just knew that he was now a loner for life.
The Rodgers and Hart contribution to this set was just one of several from Ella's iconic Norman Granz-produced "Songbook" series of eight albums, recorded in the 1950s. George and Ira Gershwin were represented by two songs, including an achingly rendered "How Long Has This Been Going On?" And Cole Porter was the composer of two more, including the show's opener, a deceptively slow-starting "Too Darn Hot" that Douglas broke out into a blaze soon enough. Appropriately, Ella's favorite collaborator, Duke Ellington, had a hand in three of the selections. One was her encore—which Douglas said was Fitzgerald's favorite song of them all—the tear-inducing "Something to Live For" (Ellington, Billy Strayhorn). Another was my favorite discovery of this set: "Imagine My Frustration," an out-and-out rhythm and blues song (!) by Ellington, Strayhorn, and Gerald Wilson. As Douglas channeled her inner Etta James for this unexpected rocker, her backing trio, who had performed superbly throughout the set, outdid themselves. Music director Billy Stritch on piano, Mimi Jones on bass, and Shirazette Tinin on drums further enhanced the show's welcome distance between reinterpretation and mere re-creation.
Stritch also created the sometimes intricate arrangements of the songs in the show, ranging from Ella's first hit, in the 1930s, "A-Tisket, A-Tasket" (Fitzgerald, Van Alexander) to Lennon and McCartney's "Can't Buy Me Love." All but one of the numbers, that is. For the 1920s-and-beyond jazz evergreen "I Found a New Baby" (Jack Palmer, Spencer Williams), Douglas chose to employ Ella's own arrangement for the Chick Webb orchestra.
I have just one small quibble with this tribute. By her own admission, between songs Douglas had a tendency to talk too much about her subject, of whom her enthusiastic, sold-out audience presumably already knew much, or they wouldn't have been there. A good director could easily have honed the verbiage, leaving room for one or two more songs. And that would have been a wonderful thing.
Tribute: Ella Fitzgerald
Birdland – May 14
Category: Reviews