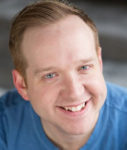 Singer Michael Kirk Lane decided to celebrate his birthday by presenting a new show at Don't Tell Mama called Glass Half Full. The optimism and positive energy implied by that title came to quite entertaining life on stage throughout the evening, even when he was addressing some rather dire and depressing aspects of our current life and times.
Jay Rogers directed with an eye for humor wherever it might be found, while on the piano, music director William TN Hall maneuvered the wide variety of styles and genres with talent to spare. Back up vocalists Laura Pavles and Sean Bernardi contributed much more than sparkling vocals as they interacted with the singer in inventive ways. Their camaraderie was evident from the very first song, Bret McKenzie's "Life's a Happy Song," which left the audience smiling. Lane's charm filled the stage, and he came across in style, look, and physicality like a younger, hipper Franklin Pangborn. His gentle, self-deprecating clowning added to that charm immeasurably.
Breaking News Flashes voiced by the back-up singers made "Orange Colored Sky" (Milton DeLugg, Willie Stein) decidedly gray as Lane tried with less and less success to maintain a sunny disposition. A re-write of "He's a Tramp" (Peggy Lee, Sonny Burke, Oliver Wallace) turned it into "He's a Trump," but Lane and his co-parodist, Elaine Brier, chose to concentrate on buzz words and phrases rather than witty lyrics, so the opportunity fell flat. Kander & Ebb's "Class" took on a deeper life in the face of the current embarrassments in Washington, a fact underlined in the pointed vocals of Lane and Bernardi. Revealing that he grew up in Flint, Lane went into Paul Simon's "My Little Town"; while it was dramatic, its potential power was undercut by too many patter interruptions.
Featured prominently was an overlong medley of dozens of Broadway songs that was shapeless and meandering. Some of the shows were represented with just a few words; what jokes there were in the juxtapositions had no time to land, and there was no sense of movement and no internal logic. On the other hand, Bob Dylan's "The Times They Are A-Changin'" was powerfully arranged by Hall and perfectly realized by the three vocalists. Stephen Schwartz's "Morning Glow" followed and offered a hopeful, uplifting ending. There could not have been a better encore for Glass Half Full than "Laughing Matters" (Dick Gallagher, Mark Waldrop), in which every moment of wit and feeling was beautifully delivered by Lane.
Too many of the songs were truncated or interrupted or left hanging, and too much of the patter seemed underdeveloped, which made the show feel unfinished and incomplete. A bit more thought and polish were called for, which is a shame because there are such delightful moments in it; however, the next performance is several weeks away, so perhaps that work will be done. Still, one wants Michael Kirk Lane to succeed, one wants this show to work; that goes a long way towards making any deficiencies forgivable.
Glass Half Full
Don't Tell Mama – April 21, May 27
Category: Reviews