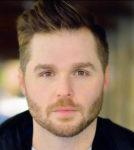 At one point in his September 14 show at the Triad, Michael Cummings acknowledged friends and family in attendance. When he had finished, it seemed he'd greeted nearly everyone in the room. Of course, a performer's loved ones naturally show up to offer support, but it's no accident that they turned out in droves—always enthusiastic and frequently raucous—for this particular show. September 14 is Cummings's birthday.
To mark the occasion, he began by singing a happy birthday to himself from offstage. But when he then appeared, why was he dressed as Sophia Petrillo from The Golden Girls and why did he segue into the series' theme song, "Thank You for Being a Friend" (Andrew Gold)? And why did Cummings/Petrillo then display an American flag and launch into "The Star-Spangled Banner" (John Stafford Smith, Francis Scott Key), making for an even quirkier opening medley? We soon learned that both the beloved sitcom and the national anthem, like Cummings, first appeared on September 14. Who knew? This cheeky opening set the tone for the whole set. Cummings is clearly an inveterate cut-up, and a good share of his performance had a veneer of smart-ass humor.
I worried a bit about the almost unruly mood of audience members, some of whom talked over his singing at times. To his credit, however, they paid rapt attention when they most needed to. For instance, when he asked them to join in a sing-along of "My Heart Will Go On" (James Horner, Will Jennings) from the 1997 film Titanic, they participated enthusiastically—and impressively. I'd had no idea that so many people could sing this song without first being handed a lyric sheet.
It's too bad that Cummings didn't give a fresher spin to some of the musical material included in this show. For instance, his version of "Careless Whisper" (George Michael, Andrew Ridgely) seemed a pale imitation of the Wham! original. Similarly, he created a shtick-by-shtick replica of the Barbra Streisand recording of "Jingle Bells" (James Lord Pierpont), listed on her first holiday album as the musical question "Jingle Bells?" But Cummings had justified the mimicry in his spoken introduction to the song by commenting on what a diabolical earworm Barbra's "Jingle Bells?" can be.
Most of his considerable patter was just for fun. For instance, he shared with us his dreams of becoming a featured player (but never a star—too much work!) on Broadway, and at one point he demonstrated how he might sing a solo line or two during Les Misérables while simultaneously portraying a corpse strewn on the barricade. In the latter part of the show, he showed significantly more vulnerability. He shared a heartfelt personal story about lost love, which led to some tender singing on the contemporary weeper "Dancing on My Own" (Robyn, Patrik Berger).
Throughout the evening, he proved his credentials as a musician, playing melodica, recorder, and—most impressively—violin. The musical climax of the evening was a sequence that began with his fervent bowing on "Csárdás" (Vittorio Monti), leading into a fiery, funny "The Devil Went Down to Georgia" (Charlie Daniels et al.). This curious juxtaposition of dissimilar genres was perhaps the cleverest thing in the show; it clearly delighted the listeners. It didn't hurt that Cummings is also such a gifted fiddler.
Jody Schum (piano) and Noah Hyams (drums) backed Cummings throughout. Also providing valuable support were backup singers Katia Malarsky and Joshua Bennett. Malarsky played an especially prominent role on some numbers, including a recreation of the Streisand/Donna Summer disco duet "No More Tears (Enough Is Enough" (Paul Jabara, Bruce Roberts).
I hope that the next time I see Cummings, he'll be doing a regular show, without all the birthday folderol. He merits another look, viewed in a more natural cabaret habitat.
Happy Birthday to Me: A Celebration of Me, Celebrating You, Celebrating Me!
The Triad  –  September 14
Category: Reviews