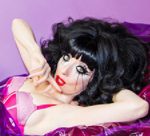 In her recent show at Joe's Pub, she came on stage both tentatively and as if expecting to be showered with roses by her adoring fans. The woman who was once known as Melissa Madden Gray from Australia sported a black Medusa hairdo, and was dressed outlandishly in a shredded black organdy overskirt not quite concealing a more formal and form-fitting dress, and beribboned in yellow "Caution" construction tape. For 90 minutes, Meow Meow proved that she is indeed something different in the world of cabaret. A performance artist, to be sure, a beyond-sui-generis satirist, a slapstick comic, and a female female impersonator, for starters. Absent the floral tribute from the audience, she left the stage and returned with a bouquet of red roses to distribute to them.
As the show continued, she would depart the stage several times more, returning each time with ever-larger carrier bags of props with which to engage the crowd. She occasionally sat on the stage, even while singing, and intermittently pretended to be hopeless at high kicks and splits—only then to execute them perfectly, with her long and shapely legs. Meow Meow's most extended and successful sight gag proved to be her handing out disco balls to some patrons sitting near the stage, and ordering them to stand and twirl them, while table mates threw light on them from their cell phones. Her fans were completely complicit and quite diligent while carrying out this task—even the guy who was called to the stage to twirl a ball in each hand and squeeze an extra-large one between his thighs, while she shined a flashlight on the balls and sang.
And sing she did—some 15 songs, half a dozen of which she had written with collaborators such as Iain Grandage, and Thomas Lauderdale of Pink Martini, a group with which she has performed. She promised to sing some songs that her fans would be begging for, and joked "I will even finish some of them. But don't expect to catch all of the lyrics." She has a powerful, wide-ranging voice and can sing in a variety of styles. (I would like to have heard more songs free of irrelevant, bracketing visual aids and a clearer delivery of some of her lyrics.) I was especially taken with "Hotel Amour," a ballad about looking for love in vain, which Meow Meow co-wrote with Lauderdale. (Happily, she had doffed the shredded black organdy skirt and yellow construction tape for this torch song portion of the program.)
Her knockout number, more familiar to most of us, was "Pirate Jenny" (Kurt Weill, Bertolt Brecht). This she termed "an out and out revenge song," and she sang it in German—mainly as "a bit of showing off," she explained. (She has a university degree with honors in the language.) Even cheerier, she followed this with another Brecht lyric, "On Suicide" (music by Hanns Eisler). Both renditions certified her Lotte Lenya credentials and helped to cast a Weimar-esque glow over the evening's proceedings—although her rapport and interplay with the audience had more to do with the Weimar tradition as updated by Meow Meow. The excellent backup trio led by musical director and pianist Lance Horne seemed to be having as exuberant a time as Meow Meow herself.
Meow Meow
Joe's Pub – July 16, 17, 18
Category: Reviews