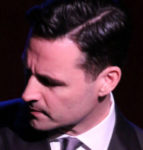 Max von Essen has built a laudable New York theatre career over a number of years in such shows as Death Takes a Holiday, Dance of the Vampires, An American in Paris, and, currently, Anastasia. He recently brought his talents to the stage at Birdland, a club that he confessed he had dreamed of playing since childhood. He opened his set with a pairing of Peter Allen and Carole Bayer Sager's "Everything Old Is New Again" and "I'm Old Fashioned" (Jerome Kern, Johnny Mercer) and then proclaimed that we would be hearing mostly dead composers. Unfortunately, his delivery was as "old" as the material. There was no effort at updating in either the arrangements or the attack. The treatment of the songs as museum pieces precluded the vitality and spontaneity with which they should be sung.
Song after song was given a resolutely G‑rated sheen, when what was needed was some R‑rated (or at least PG‑13) emotional tarnish. He had obvious love and respect for the lyrics, but failed to go beyond the shiny surfaces into something of substance. What we witnessed were not the trappings of a Broadway star, but rather those of a teen pop idol from the past, like Bobby Rydell or Fabian, who, after hitting it big on the radio, dressed up in fancy tailored suits and moved on to Las Vegas or Atlantic City to sing grown-up songs for grown-up audiences. He was all about performing the songs but not about telling the stories, smiling as exuberantly at the end of ballads as he did at the end of uptempo numbers. His accomplished trio (musical director Billy Stritch on piano, Steve Doyle on bass, and Daniel Glass on drums) fell into the same pattern, with presentable but uninspired arrangements.
When von Essen sang a beautifully measured a cappella verse for Bart Howard's "Fly Me to the Moon," it seemed that perhaps there would at last be some thoughtful storytelling, but once the song proper began, the specificity disappeared. It became worse when that song morphed into "Can't Take My Eyes Off You" (Bob Crewe, Bob Gaudio) done in full-tilt karaoke mode. "Show Me" (Lerner & Loewe), boosted by the most interesting and exciting arrangement of the night, added some much-needed energy, but even there it was the sound of his voice rather than the strength of his acting that excited. (A Gershwin medley from An American in Paris included songs he had actually performed in character on Broadway; it demonstrated that—as he's shown in his theatre work—he can handle the acting quite well.) A duet with Stritch would have been more successful if the seasoned wisdom and understated romance of the pianist's delivery had not highlighted what was missing in von Essen's performance.
He remained a charming, likable fellow throughout, and his patter was funny and nicely spontaneous. I wanted to like him from the start. I wanted to like him at the end. It was just not to be. Perhaps a director might have helped him center the songs emotionally and make them sound like they were being sung in a saloon and not in an elevator or a Vegas lounge.
Max von Essen in Concert with Billy Stritch
Birdland – July 23
Category: Reviews