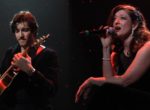 The jazz world has long looked to Broadway for melodic fodder. Jazz singers have forever riffed on musical lines from the likes of Cole Porter and Rodgers & Hart. And that makes particularly tidy sense if you accept the often-stated proposition that the two major cultural contributions that America has made to the world are jazz and the musical play.
In their recent show at Don't Tell Mama, Matt Wolfe, a jazz guitarist, and Lainie Munro, a singer with musical-theatre background, hinted that they would explore the ways in which these two performing arts overlap. They set the stage for such a theme with their opening number, "On Broadway" (Barry Mann, Cynthia Weill, Leiber & Stoller), in a version that owed a lot to the popular 1978 George Benson recording. But the duo—who met when both were performers aboard the same cruise ship—instead included a spate of rock-era pop songs and only a few show tunes. Early on came a quirky up-tempo take on Rodgers & Hart's "My Romance" (from Jumbo). And near the end they delivered a racing version of the title song from On a Clear Day You Can See Forever (Burton Lane, Alan Jan Lerner), during which Munro seemed to be trying to capture the sassy attitude of a youthful Nancy Wilson. Finally, for their encore, they performed Jason Robert Brown's "Stars and the Moon" from Songs for a New World (more on that later).
Throughout the evening Wolfe played with ease and confidence. He delivered several impressive solo turns, full of crowd-pleasing flourishes. But aside from his embellishments, the set seemed at times to be the work of a talented cover band playing familiar renditions of titles from the catalogs of Stevie Wonder, the Beatles, Sting, and others. The selections were pleasant enough. They just didn't allow Wolfe and Munro to stake their own territory.
Munro boasts a hardy, ample voice—shown to good advantage on Gary Moore's "Still Got the Blues (For You)." After the show, my guest remarked that the singer might find success singing the repertoire of Janis Joplin, which seemed like a good suggestion. You certainly couldn't accuse her of being too relaxed: she was animated and eager to please for the duration of the set. But she was also very mannered: her movements (her dips of the knees, pointings of the finger, tosses of the head) as well as her vocal interjections ("Whoo!" "Take it away!") all came off as highly pre-programmed. Also, a wide, almost-laughing smile seemed always to be on her face. This created a strange effect when she sang a number with downbeat lyrics, such as Bill Withers's "Ain't No Sunshine." Munro needn't lose her exuberance entirely, but I believe she would benefit from scaling it back a bit. With her thoughtful delivery of the aforementioned "Stars and the Moon," she proved that she is capable of successfully exploring and interpreting the lyrical content of a song; in my book, it was her most effective turn in the whole show.
Wolfe's brother, Tim Wolfe, Jr., served as bassist for the evening. He had a pleasing solo bit on Leon Russell's "This Masquerade." Drummer Jarrett Walser took his moment in the spotlight during a lively take on "Moon River" (Henry Mancini, Johnny Mercer). Elsewhere, the two adjunct musicians performed with supportive, unassuming professionalism.
Don't Tell Mama  –  July 2
Category: Reviews