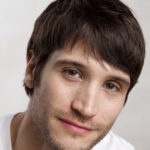 "Neither Here nor There," Matt DiPasquale's engaging show at the Duplex, is a solo act, but for some reason he uses three separate microphones, spread evenly across the front of the stage. Is he working some metaphor—perhaps suggesting that he's not sure of where he stands? Or maybe that he has three times as much to talk and sing about as the average cabaret vocalist? DiPasquale isn't telling. There are three microphones because there are three microphones. Does everything have to make sense? Because, you know, not everything does.
This singer apparently has a soft spot for all things absurd. Ostensibly his show (directed by Kenney Green) is about the importance of being a dreamer, even when the chances that your dreams will come true are minuscule. However, the evening is at least as much about what DiPasquale seems to allude to in his title: those random, sometimes bizarre moments that can wind up defining the lives we lead—those moments that are neither here nor there. DiPasquale repeatedly goes off on tangents—telling tales of his third-grade math class, of a party with an unexpected dress code, of a mortifying moment at Liza's at the Palace. These and other anecdotes are sharply drawn and very funny.
His song selection is highly varied, and about as quirky as the tales he tells. He starts out with a very somber "Dreamers" (Marvin Hamlisch, Christopher Adler), singing earnestly in an appealing, openhearted musical-theatre voice. This song gives you no clue at all about the wild, funny, and affecting trip on which you're about to embark. His second song is the relentlessly cheery "Walking Happy" (Jimmy Van Heusen, Sammy Cahn), a selection that a musical-theatre teacher once advised him to sing because it fit his stubbornly optimistic streak. Bopping about like an animated bunny, he ridicules the undeniably sappy aspects of the song that he once bought into—although he later admits that he actually still likes the number.
Other songs in the show come from everybody from Maltby & Shire to Stephen Schwartz to David Bowie. DiPasquale bounces from beautifully rendered ballads (such as Bowie's "As the World Falls Down") to madcap comic numbers, the best of which is the revival of a World War I-era novelty song called "Sister Susie's Sewing Shirts for Soldiers" (Herman Darewski, R.P. Weston), which he performs in a barking vaudevillian's voice while wearing a straw boater. Along the way he includes some original song parodies, including "My Favorite Drinks," based, of course, on Rodgers and Hammerstein's "My Favorite Things" (he and Joli Tribuzio penned the clever comic lyrics). Throughout the evening there's a sweet rapport between the singer and his pianist and musical director, Jeffery Wilsor.
A few things about the show deserve to be reconsidered. DiPasquale's rendition of "My God" (from the movie Sister Act, adapted by Mark Shaiman from Smokey Robinson's "My Guy") grows out of the compelling but odd story of the day DiPasquale came out as gay to his parents. But this number is less interesting than some of the other songs, if only because it relies so much on impersonations of the various nun characters from the film. It's cute, but it doesn't add up to much, beyond proving DiPasquale's point that he was indeed blessed with the "queen gene."
I'm also not sure that the show should reach its apex with "Wicked Little Town" (Stephen Trask) from Hedwig and the Angry Inch. DiPasquale sings the song in a vulnerable, heartfelt way, and it certainly works for him as a moment of epiphany. The only problem is that it is so well known as a defining song for John Cameron Mitchell's Hedwig character that it seems like a hand-me-down. I enjoyed every measure of DiPasquale's version, but I think he could unearth a different, perhaps more obscure and/or offbeat song to fulfill the same function and create the same poignancy.
Lastly, I'd advise him to trim his concluding address to the audience, in which he stresses the "importance of dreaming" theme. It's a from-the-heart sentiment, and he expresses it eloquently. It's just that he extends it by a couple of sentences too many.
Those minor reservations aside, I found myself completely drawn in by this distinctive young entertainer's talents as a seriocomic raconteur and by his honest and assured way of interpreting songs. DiPasquale plans to reprise the show this summer. Catch it if you can.
"Neither Here nor There"
The Duplex  –  April 23, 25
Category: Reviews