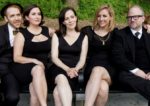 What fun it was to start off Tony Awards weekend at the Laurie Beechman Theatre with Broadway By The Letter, an hour of musical-theatre songs from the vocal ensemble Marquee Five (Mick Bleyer, Lynsey Buckelew, Adam West Hemming, Vanessa Parvin, and Sierra Rein).
Musical director Hemming wrote the lush and intricate arrangements that the group brought to life. The pleasingly dense harmonies that he and his fellow singers created were made even richer with the rhythmic variations and other embellishments he'd built into the scores. For instance, take the twists given the opening number, Bernstein and Sondheim's "Something's Coming." Here, individual voices cascaded beautifully over one another, creating the aural equivalent of overlapping bursts of water racing over a mountain ridge and spilling to a pool below.
Selections from the enjoyable but uneven first half of the show included: an amusing mash-up of songs from Andrew Lloyd Webber and Tim Rice's Jesus Christ Superstar and Evita, with charismatic leaders Jesus and Eva Peron vying for predominance; an earnest and sober-sided medley of songs from Les Misérables (Alain Boublil, Claude-Michel Schönberg, Herbert Kretzmer); and a grouping of songs called "Hopeful Herman," in which Jerry Herman's optimistic sentiments and playful wit were given full play. Although I enjoyed these selections, I noted that sometimes the lines sung by a featured soloist were overpowered by the supporting voices of other singers. Also, during the Herman set, a relentlessly cheery approach threatened to pull the singers into a quagmire of cutesiness reminiscent of the too-eager-to-please choral numbers on TV variety shows in the early 1960s.
The Sondheim-heavy second half of the show was much stronger. "No One Is Alone," from Into the Woods, is one of my least favorite Sondheim songs, but I'm happy to report that it sounded terrific here. Parvin took the lead, with the others creating a sound that suggested a strong, slow wind pushing through a grove of tall trees, making them sway. Hemming's arrangement for "Everybody Says Don't" (Anyone Can Whistle) was one of his most ambitious and exhilarating (though I have mixed feelings about the line "I say 'do'" being altered at one point to "I say 'doobie-do'"). Finally, there was "Sunday" from Sunday in the Park with George. Few pieces of music move me to tears more quickly than this song—and Marquee Five's rendition left my face fully drenched. The number was nothing short of exquisite.
Each member of the ensemble was given several featured solo spots. Among the best was Rein's stirring turn on The Scarlet Pimpernel's "Into the Fire" (Frank Wildhorn, Nan Knighton). Also highly effective was Hemming's yearning take on "Still Hurting" (Jason Robert Brown) from The Last Five Years (an Off-Broadway rather than a Broadway show, but who's splitting hairs?). This lovelorn song was written for a woman, but here—sung by a man, about a man—it served as a reminder that we were celebrating not only Tony weekend, but also Pride month. Hemming's choral arrangement gave the song a madrigal-like quality, and the name of the love object—"Jamie"—was sung repeatedly by the supporting singers like a stinging taunt.
In recent years we've seen a proliferation of a cappella choral singing, due in part, no doubt, to the popularity of the Pitch Perfect feature film franchise, as well as television shows, including Sing-Off and Sing It On. This season there was even an a cappella musical, In Transit, on Broadway. While certain musical passages went unaccompanied in Broadway By The Letter, most of the time Hemming included instrumental support for the vocal lines in his arrangements. A combo of three musicians added especially welcome zest to the more martial-sounding selections, such as "Into the Fire." Pianist Dan Pardo, bassist Matt Scharfglass, and drummer Rich Huntley were the show's unsung (or, rather, "unsinging") heroes, and I'm very glad they were onboard.
Broadway By The Letter
Laurie Beechman Theatre  –  June 9
Category: Reviews