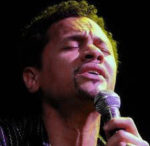 For his debut at The Triad, singer Mark Anthony Lee chose a tried-and-true staple of cabaret: songs sung by his favorite singers and recording artists. But this was by no means a run-of-the-mill soul/R&B concert. He didn't sing the usual hits, but instead made unexpected choices from deep in these artists' repertoires—album tracks that had had a big effect on him. It turned out that he has great taste and there was not a misfire in the set.
The fantastic band, under the music direction of David Pearl (who contributed dazzling keyboard work and intelligent, tasteful arrangements throughout), included Jarrett Walser on drums, Hendrik Helmer on guitar, and Paul Beaudry on bass. Each was given moments to shine, and shine they all did. Ki Ki Hawkins and Amma Whatt were background vocalists, but that term doesn't really encompass their contribution to the evening; they were first rate musicians every bit as much as the band members, often seeming like some angelic string section.
Marlena Shaw's "I'm Back for More" (Kenny Stover) started the night with a classic '70s soul sound that introduced us to Lee's impressive vocals. While recreating the sound, he didn't lose track of the lyrics and story. His phrasing was on the money, and if his heart was not on his sleeve it was definitely on the stage. "Heart to Heart" (Kenny Loggins, Michael McDonald, David Foster) upped his game even further, revealing a sweet, unassuming falsetto on top of his rich, smooth sound. Al Jarreau and Gino Vannelli seem to be favorites of the singer, and he paid tribute to them with two songs each. Jarreau's "Easy" (Jarreau, Jay Graydon, Tom Canning) and Vannelli's "Wheels of Life" were standouts, as was Kim Carnes's "And Still Be Loving You" (Carnes, Dave Ellingson) a rarely done, and most welcome, gem. It was a treat to hear "We're In Love," one of my favorites from Patti Austin's Havana Candy album. His judiciously applied falsetto was just right here, not showy but in service to the song.
I have a couple of "cosmetic" reservations about the performance. His projection, which was dynamic when singing, at times pretty much disappeared when speaking. When the patter could be heard, it was usually a variation of the line, "This next song is/was written by…" with no further embellishment. His introductions needed some variation and some life. His personal connection to the material was obvious when he was singing, but didn't come across when he talked. Too many times he quasi-danced through a song, his body keeping time to the music. I wished that he would just stand still and sing the song a few times. That and some cliché hand gestures were needlessly distracting. The danger with this approach is that we could end up watching him enjoy the music rather than enjoying it ourselves.
If it were the '70s, Lee would have been snatched up by some record label and would be performing this show at the Apollo or Radio City Music Hall. His creamy, romantic vocals and his smart assured phrasing would have put him in a league with those to whom he paid tribute. This is the best kind of nostalgia. He sings the songs as if they were freshly minted and still delivers their timeless power. We can be grateful that he is preserving this legacy in a world of hip-hop and house music. It's a sound, a style, and an art that some might not even know they were missing until a master practitioner like Mark Anthony Lee reminds them. As he exited through the house singing at the end of his encore, "I Want the Night to Stay" (Luther Vandross, Nat Adderley Jr.), there were many in the audience clearly wishing the same thing.
The Triad – May 22
Category: Reviews