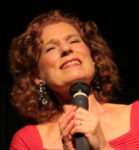 According to online biographical notes, Madelaine Warren started her performing career as an opera singer. Later she transitioned into the pop-music arena, performing in concert halls and clubs, as well as on cruise ships (often teamed with her husband, Arthur Warren). Now she's finding her footing in the world of New York cabaret. After seeing her show at Don't Tell Mama, "Moving Forward by Looking Back at the Great American Songbook" (an encore performance of a show that was performed at the club earlier this year), I'm happy to declare her a most-welcome addition to the scene.
One can hear the operatic training in her voice, and when she sings passages with staccato notes, there's occasionally a sound that veers perilously close to squeakiness. But the more you listen to her, the more attractive her singing becomes. That's partly because she has such a fine gift for latching onto the emotional core of a song and then exploring the places that the melody and lyrics take her—but never pushing to create drama for drama's sake. She has a warm and gracious rapport with her listeners. She's a relaxed raconteuse who sprinkles her anecdotes with bright bits of humor; frequently she flashes a contagious smile.
At the performance I saw, she made a fine first impression. Her coils of auburn hair and her sparkling outfit gave her a glamorous sheen as she launched her first number, "I'm Sitting on Top of the World" (Sam M. Lewis, Joe Young, Ray Henderson) She begins the number as a dreamy ballad before transitioning into the song's more customary up-tempo pace. (Warren has a complicated connection with Lewis, who—she explains—was her "husband's godfather's uncle." Previous to this show, she performed an evening of songs specifically focusing on his work.)
Highlights in "Moving Forward" (which was directed by Barry Kleinbort) include a rollickingly comedic "Where Did Robinson Crusoe Go with Friday on Saturday Night?" (Lewis, Young, George W. Meyer), to which Warren has added some spoken asides using funny voices. That kind of verbal clowning doesn't work for every singer, but she has a knack for mimicry, and pulls it off nicely. In a much different mood is a quiet, delicate, and very effective "Laugh, Clown, Laugh" (Lewis, Young, Ted Fio Rito).
One thing that works well for Warren and Kleinbort throughout the set is a clever juxtapositioning of songs. For instance, after a sexually agitated and rueful "The [Boy] from Ipanema" (Carlos Antônio Jobim, Vinicius de Moraes, Norman Gimbel), she throws in the towel on carnality with a spirited "Down with Love" (Harold Arlen, E.Y. Harburg). Wisely, the connections between paired songs aren't overstressed, but they help the evening progress gracefully.
I don't know whether Warren has ever considered auditioning for the role of Vera in the musical Pal Joey, but I'd bet she would be splendid in the part. Her rendition of that show's "Bewitched, Bothered and Bewildered" (Rodgers & Hart) is a fine amalgam of reined-in randiness and wry self-deprecation. She sings what seems to be the full set of lyrics heard in the show, complete with the double entendres that (as she reminds us) shocked audiences when they were first heard in 1940. (Many recordings of the song use a sanitized revision.)
Assisting Warren onstage are musical director and pianist Christopher Denny and bassist Bob Renino. Among the more memorable moments of musicianship from them are the soft, gong-like piano chords on Cole Porter's "I Concentrate on You" and the boisterously swirling waltz approach to "The Song Is You" (Jerome Kern, Oscar Hammerstein II).
"Moving Forward by Looking Back at the Great American Songbook"
Don't Tell Mama  –  November 5
Category: Reviews