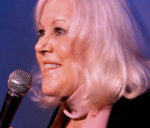 Her getup signals the overall tone of Lynn Henderson's current Don't Tell Mama show, directed by Barry Kleinbort, even more than does its title song, "'T'ain't Nobody's Bizness If I Do" (Porter Grainger, Everett Robbins). Her bright Red Riding Hood cape (an exactly matching red boa is added later for some especially showbizzy numbers) already tells us that Henderson enjoys singing to an audience immensely and has had a mostly happy life. Her 22-song (!) set largely reflects this dual enthusiasm, while at the same time offering a mixed result in terms of song selection and delivery.
In her two opening numbers, "The Colors of my Life" (Cy Coleman, Michael Stewart, from Barnum) and "My Life" (Billy Joel), Henderson promises a thoughtful review of her 70-plus years. She starts her survey well, with a delicious excavation of "I'm the Big Band Singer" a Merv Griffin song emanating from his own early show business work. And hers, too, as it turns out. (Henderson sang in two bands while still in high school, one of them a big one.) Going forward, she fares best in her renditions of lesser-known songs: a deeply felt "Errol Flynn" (Amanda McBroom), for instance. Another standout is her poignant reading of "Streets of London" (Ralph McTell), a Cleo Laine staple from the 1970s. She admires and includes familiar show tunes, but fares better with lesser-known theatre numbers, such as Jerry Herman's "Just Go to the Movies" (A Day in Hollywood/A Night in the Ukraine) and Kander & Ebb's "Love and Love Alone" (The Visit).
Douglas J. Cohen is so much more than Henderson's musical director and pianist here, and, as she repeatedly says, she is blessed to have him. He did the show's effective arrangements and, with lyricist Lawrence Dukore, wrote two of the songs n the set: "It's Showtime" and "A Man's Gotta Make Me Shiver," with its delightful Mae Westian overtones. Cohen, who is also an excellent singer, solos effectively on "Married" (Kander & Ebb, Cabaret) and sings two duets with Henderson, including his superlative mashup of George and Ira Gershwin's "They Can't Take That Away from Me" and "Let's Call the Whole Thing Off." Nicely underpinning all of this is Bob Sabin on bass.
Yet, there is a difference between eclecticism and grab-bag selection. With more familiar (I almost said "wheezebag") cabaret numbers, Henderson does less well, and on them her voice seems at its most ragged. Songs such as "That's All" (Alan Brandt, Bob Haymes), "Nice 'n' Easy" (Lew Spence, Marilyn & Alan Bergman), "I'm in Love Again" (Cole Porter), "You've Got a Friend in Me" (Randy Newman), and "I Got a Name" (Charles Fox, Norman Gimbel) seem less in her wheelhouse. As for her encore, "Here's to Life" (Artie Butler, Phyllis Molinary): as I've said before, "enough, already." The multitude of cabaret singers who include this number, usually as a finale or an encore, often act as if they've discovered an unknown gem instead of employing an overexposed cliché, and they rarely add anything to it.
Henderson seemed to lose her place too often, despite the script on the music stand at her side and the fact that this was the second airing of her new show. She excused herself by saying "If Barbra Streisand can use a teleprompter…," implying that both septuagenarians can be excused for needing to be on book. Maybe they can, but even Henderson's written narrative at times seems out of sequence. At one of the few actually autobiographical points, she talks—admirably without bitterness or regret—of her divorce fifteen years ago, after 36 years of marriage, and then launches into a not-quite-set-up flashback: "(I'm in Love with) A Wonderful Guy" (Rodgers & Hammerstein). Further, this was preceded by "That's All," which is about a deeper, less bouncy sentiment, and would seem better positioned after the corn in Kansas.
"'T'ain't Nobody's Bizness If I Do"
Don't Tell Mama  –  September 8, 13, 25
Category: Reviews