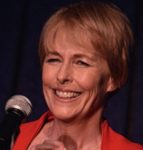 There is a great deal to be said for inside information when it comes to creating and presenting a musical cabaret tribute show. Almost any singer could compile such an offering based on public domain material—or solely on Wikipedia snippets—combined with the honoree's greatest hits. But an artist's knowing or having known one's subject well adds a welcome extra dimension to the celebration. Liz Robertson, in her totally charming recent show at Don't Tell Mama (directed by Barry Kleinbort) demonstrated this to a fare-thee-well.
Robertson was the eighth and final wife of Alan Jay Lerner, but clearly she had also learned a lot about what had gone on with him, personally and professionally, before the couple's five years together. Plus, the theme and title of her show was pure genius: "Lerner Without Loewe." We are in Alan Jay Lerner's centennial year, and we will be seeing other cabaret acts paying homage to the lyricist—alone or in concert with other musical legends born in 1918—undoubtedly largely comprising Lerner and Loewe's evergreens. But we didn't hear anything from My Fair Lady, Camelot, or Brigadoon here. Instead, we heard Robertson's highly effective renderings of Lerner lyrics to a variety of compositions, some of them obscure, by composers including Kurt Weill, John Barry, Michel Legrand, Leonard Bernstein, and Charles Strouse.
By far, Lerner's most prolific non-Loewe composer collaboration was with Burton Lane. Robertson wisely began her show with the enduring title song of On a Clear Day You Can See Forever. But a wide variety of lesser known Lane songs was included in the lineup—eleven of them all told, exactly half this show's song list. Among them were "Love with All the Trimmings," written for Barbra Streisand to sing in the movie version of On a Clear Day and "It's Time for a Love Song" from Carmelina. Best among them was "How Could You Believe Me When I Said I Loved You, When You Know I've Been a Liar All My Life?" (still the longest song title in the ASCAP catalog), which Lerner and Lane had written for Jane Powell and Fred Astaire to perform in the movie Royal Wedding. Robertson's rendition neatly showcased her more rambunctious side, while most of the rest of her show played to her more generally recognized strengths.
Lerner and Robertson met when he was directing a London revival of My Fair Lady, in which she was playing Eliza Doolittle. Apt and understandable comparisons to Julie Andrews both physically and vocally abounded. Lyric/dramatic soprano voices were the two women's mutual stronghold. Robertson's American cred in that department came from her playing the female lead in the Lerner-Strouse Broadway musical Dance a Little Closer, famous for having opened and closed the same night. Her lovely renditions of three songs from that show, "No Man Is Worth It," "There's Always One You Can't Forget," and her encore for this show, "Anyone Who Loves," gave strong proof that the closing was premature.
I have had at least a passing knowledge of "I Love This Land" (Bernstein, from 1600 Pennsylvania Avenue), a passionately delivered eleven o'clock number in Robertson's show, but two Kurt Weill songs from Love Life and John Barry's "How Far Is It to the Next Town?" (from the score for Lolita, My Love) were among the obscurer but worthy numbers new to me. My only tiny quibble with her song list would be that Robertson did not include anything from the André Previn/Lerner stage musical Coco, arguably the lyricist's second-most successful non-Loewe show, after "On a Clear Day." But even here there was a nifty consolation prize, the ravishing Previn-Lerner addition to the otherwise hapless movie version of Paint Your Wagon, "A Million Miles Away Behind the Door."
Robertson's just-enough chat amongst her 22 songs, most sung in their entirety in just over an hour, was laced with revelatory, mostly humorous tidbits, e.g., she agreed to marry Lerner when she was 25 and he was 61 only after extracting the promise that there would never be a ninth wife; and Lerner wrote lyrics with all these other composers only because "Fritz Loewe kept announcing and taking serial retirements." She was generously supported throughout her show by musical director Ron Abel on piano, and Ritt Henn on bass.
Lerner Without Loewe
Don't Tell Mama – April 13, 14, 15
Category: Reviews