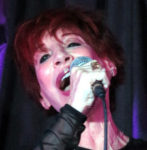 In her early years as a singer in New York, Linda Glick split her time between teaching high school Spanish and French during the day and appearing at some of the city's landmark cabarets, such Les Mouches and Reno Sweeney, at night. As her nighttime career bloomed, it overcame her daytime pursuits as she moved on from cabaret to theatre and the concert stage—but she has strong memories of her time in the classroom. Those memories are part of the inspiration for Teach Me Tonight, her show, at Pangea. She explores the roles of teacher and student and how we move from one to the other and back again. It's a loose but effective concept that accommodates a wealth of material.
Her voice, a pleasing combination of warmth and strength, shows little sign of the passage of time. Technically, her vocals cannot be faulted on standards like the show's title song (Gene de Paul, Sammy Cahn), "Just One of Those Things" (Cole Porter), "Why Don't You Do Right?" (Kansas Joe McCoy, Herb Morand), and "When the Sun Comes Out" (Harold Arlen, Ted Koehler). She is also quite adventurous in her choices of more contemporary material and shows a real affinity for a modern repertoire. Janis Ian's "In the Winter" is delivered with a maturity that makes the song her own. Randy Newman's "Guilty" shows off a darker, bluesier side that suits her. The rarely heard "James" (Billy Joel) is also well done; I appreciate her avoidance of more obvious choices by the songwriter. "To Make Me Who I Am" (Aaron Neville, Gordon Chambers, Robbie Nevil, Bradley Spalter) is a real find, and her connection with its message is palpable.
If only her presentation were as well thought out as her song selection. Perhaps unused to the intimacy of the space, her focus for most of the show is an inch or two too high; sometimes she appears to be singing to a non-existent balcony. Her years on the road opening for the likes of Don Rickles, Jack Benny, and Shecky Greene may be when she picked up the distracting habits she exhibits in the show. Her hands are always on the move, including tired, clichéd gestures and unwarranted thrusts toward the audience that pull us out of the story. For no apparent reason, she will shout out a phrase or word rather than sing it, or overemphasize a sexual innuendo, or make a "hip" winking aside to the audience as they did in the "good old days," which is exactly where such artifice should stay. Attempts at humor in both patter and special material (as in her rewrite of David Yazbek's "Jeanette's Showbiz Number" from The Full Monty) too often fall flat. In fact, the hour becomes a battle royal between conflicting styles: Borscht Belt vs. cabaret sophistication.
Music director Ian Herman offers terrific support throughout, and his work on the contemporary songs was a particularly nice blend of cabaret and pop/folk. Technically the show is problematic. Someone decided that the reverb should be ramped up to wind-tunnel proportions, as if masking some perceived frailty in Glick's singing. She has no need of such intrusive artificial support.
At one point, she pairs Rodgers and Hammerstein's "You've Got to Be Carefully Taught" with Graham Nash's "Teach Your Children"; this crystallizes all that is right with this show. Glick treats each song with respect, combining the generations of song and theatre craft into a seamless statement delivered with control and intimacy and brings both songs stunningly into the present. It all but makes up for the unnecessary distractions that mar the evening and it points the way to future success.
Teach Me Tonight
Pangea  –  October 18, 25, November 1, 10
Category: Reviews