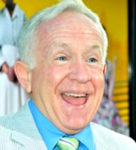 Leslie Jordan is probably best known as Beverley Leslie, the tart-tongued, flamingly fey foil to Megan Mullally's Karen in Will & Grace. Though a recurring character, his performance was so immediate, so funny, and so memorable that it seemed as though he were a regular. In his first season, he won an Emmy for the role. His gossipy, enthusiastic recounting of how he got the part is but one of the high points of his new show, Exposed, which he recently brought to the Metropolitan Room. Suffice it to say that it involved Joan Collins, wigs, girl-fights, a white suit given to him by Billy Bob Thornton, and the shooting of a woman from his hometown church who had a baby out of wedlock that looked like a pig.
He is also well known for his appearances in both the movie and the television series Sordid Lives. While his show didn't give us any stories directly from that experience, his revelations about his hometown, his parents, and his childhood as a curious, self-assured gay boy showed the world upon which he based his memorable character, Earl "Brother Boy" Ingram, who is in an asylum because he takes on the persona of Tammy Wynette, drag and all.
At the Metropolitan Room he was crude, scatological, bitchy, egotistical, and a dozen other adjectives that might not seem the most laudatory, but at all times he was himself, and he used the audience as a treasured confidant for his hilarious memoirs. He giddily dropped names (and he has a lot to drop from his career in Hollywood and New York City) and he delighted in shocking with his bawdy exploits and naughty words. And on the rare occasions when he dropped the comedy and got serious, he had earned our trust and we went there with him.
Jordan has written and mounted a number of quite successful one-man shows that toured the country. Exposed had the feeling of a try-out of material for his next endeavor. There was a "choose-your-own-adventure" element; one anecdote would careen to the next without having ended. He asked ringside audience members to "bookmark" some of the stories and remember a name, a place or a word so he could get back to it after his detour to yet another wild and wacky sidebar. This loose, dizzying style added to the hilarity, and for the most part he did get back to each abandoned storyline.
Just when I thought that a bit or a punch line crossed some line of decorum, I got lost in laughing at it or at the next aside or exclamation, and my reservation vanished in the air. He is a funny stand-up and a consummate comic actor, and I had a ball.
Exposed
Metropolitan Room – July 12, 13
Category: Reviews