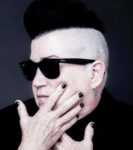 As far as I know, the stage at Birdland might still be steaming and too hot to touch after Lea DeLaria's incendiary David Bowie show there last week, which centered on her latest CD, House of David: delaria + bowie = jazz, The Orange Is the New Black star opened with "Boys Keep Swinging," a bold, dynamic mix of jazz sensibility, gender politics, highly personal lyric interpretation, savage wit, and wild physicality. In fact, it encapsulated all of the impressive performance muscle that she would flex throughout the evening. The refrain "…when you're a boy" has never reverberated so strongly.
DeLaria's between-songs patter was pointed, profane, outrageous, and hilarious, but she treated the vocals as seriously as any of the jazz greats who came before her. Above all, this show (like the album that preceded it) provided a major musical statement by an artist at the height of her powers. "Fame" moved from a smoldering beginning to a fiery climax and was followed by a "Space Oddity" that burst from a haunting and mysterious opening into a roof-raising instrumental of infectious abandon, and then settled into a swinging vocal climax without losing the integrity of the original song. Her ability to stretch Bowie into the world of jazz and to stretch jazz into the world of Bowie was thrilling.
Departing from Bowie, she did a bluesy "I Love the Life I Live, I Live the Life I Love" (Willie Dixon) that allowed the band to take off into the stratosphere. The fantastic quintet was made up of music director Jeremy Siskind on piano, Dylan Shamat on bass, Aaron Kimmel on drums, Alex Goodman on guitar, and Roxy Coss on sax. Each had opportunities to shine throughout the set, and shine they all did, but particular mention must be made of the contributions of Siskind and Goodman.
Each show in the run featured a special guest; on the night I attended the stage was graced with the presence of Janis Siegel, whom DeLaria introduced as "…one of the greatest jazz singers on the f**king planet!" I heartily agree. Perhaps inspired by the theme of pop/rock-into-jazz, she did a warm and personal take on the Philly Sound, transforming Major Harris's "Love Won't Let Me Wait" (Bobby Eli, Vinnie Barrett) in a performance filled with silk and soul in equal measure. The two dueted on "Ding-Dong! The Witch Is Dead" (Harold Arlen, E.Y. Harburg), dedicated to the day the current resident departs the White House and including a scat trade-off that was, in a word, orgasmic.
Then it was back to Bowie, with a surprisingly thoughtful and deep arrangement of "Let's Dance." "Star Man" became a raw and insistent juggernaut, with split-second shifts in mood, tempo and style that made it a highlight of the show. DeLaria's brilliant phrasing brought out every bit of modern relevance contained in Bowie's timeless lyrics for the majestic rock anthem "Life on Mars?"
A Bourbon Street-tinged "Young Americans" closed the show, complete with sing-along—the singer confessed that as a lesbian she is required by law to include one in each show. My natural aversion to this practice was actually overcome by the sheer brilliance I had witnessed in the preceding hour. Lea DeLaria is just that good!
Birdland – October 25-28
Category: Reviews