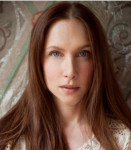 With her recent Metropolitan Room show, "Groupies—The Muses Behind the Legends of Rock & Roll," Lauren Fox brought her considerable theatrical mystique and dramaturgical smarts to a show about the sometimes indomitable and sometimes pitiable young consorts of 1960s and 1970s rock musicians. Two of the muses whom Fox showcased—Marianne Faithfull and Stevie Nicks—became household names mainly because of their own skills as musicians. But the talents of others—including Pamela Des Barres, Lori Maddox (aka Lori Lightning), and Pattie Boyd—blossomed in the boudoir rather than in the recording booth, though some went on to success in other fields.
Wearing a lacy, white full-length garment that suggested mid-1960s Carnaby Street couture, Fox opened the show with a pair of Led Zeppelin titles, "Going to California" (Jimmy Page, Robert Plant) and "Hey Hey What Can I Do" (Page, Plant, John Bonham, John Paul Jones). She struck a brash, masculine attitude, keeping her voice mostly in a lower register but occasionally letting it swoop up to suggest the falsetto howl of a lovesick young swain. When the second song's less-than-decorous lyric "I got a woman wanna ball all day" was spat from her flower-child's lips, the effect was audacious, to say the least.
Her show followed a carefully programmed pattern, with a few variations along the way. As with that Led Zeppelin opener, Fox sang most of the songs from a male musician's point of view. In her own voice, she would speak the carefully crafted narration. Finally, at points—as if in imitation of a documentary film—she recreated the personas of each of the featured groupies in short monologues, adopting specific accents and vocal cadences to individuate each young woman.
All of this allowed Fox to showcase her impressive range as singer and actor. She delivered the aggressive "outlaw" country sound of Waylon Jennings in "I'm a Ramblin' Man" (Ray Pennington) on the one hand, and a sultry and seductive take on "Lady Stardust" (David Bowie) on the other. When she sang Lindsey Buckingham's "Go Your Own Way," she sounded very much like the well-known Fleetwood Mac original. But her "School's Out" (Alice Cooper, Michael Bruce) suggested not Cooper's familiar free-for-all rebellion, but, rather, a calculated and militant conspiracy to stage an anti-scholastic coup.
Unsurprisingly, the top-tier musicians enlisted for the evening provided highly accomplished and often thrilling support. Guitarist Peter Calo was outstanding throughout the evening, beginning with the lovely spinning-wheel-like accompaniment on "Going to California." Ritt Henn's bass guitar provided a driving, aggressive revolutionary beat as the accompaniment to "School's Out." The contributions of musical director Jon Weber on piano were somewhat subdued, as befitted the guitar-centric musical genre being highlighted, though his talents were displayed nicely on "Layla" (Eric Clapton, Jim Gordon).
For me, the highlight of the show was Fox's plaintive rendition of the Marianne Faithfull hit "As Tears Go By" (Mick Jagger, Keith Richards, Andrew Loog Oldham), which was graced with an elegant, intoxicating arrangement.
The anecdotes Fox told about the groupies were often tinged with humor and frequently with sadness (not all of these hormone-driven, attention-craving young women were of legal age when they started sleeping with band members). However, Fox presented them not as victimized molls, but rather as pioneers in their own right: helpmates to rock-and-roll trailblazers. Still, she joined with the audience in a head-shaking chuckle or two at the dizzying and unceasing game of musical beds played by the musicians and their muses.
While Fox's tight control over the rather complicated program was admirable, it seemed at times to be straightjacketing her. At one point during the show I attended, she lost her place momentarily. Suddenly she had to improvise—which turned out to be something she does very well. She connected with her listeners during these off-course moments in an easygoing and highly appealing manner. This misstep may have punctured her aura of mystery and glamour to some degree, but I felt her listeners warm to her in a new and most exhilarating way. I hope she'll think back on those moments and allow herself a bit more spontaneity in future cabaret endeavors.
"Groupies—The Muses Behind the Legends of Rock & Roll"
Metropolitan Room  –  May 20, June 11, July 1
Category: Reviews