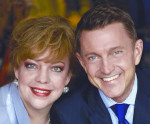 Stephen Sondheim is so special, so specific, so idiosyncratic. Sung by everyone, everywhere, how could anyone possibly do anything new and unique? In "Our Time – Sullivan & Harnar Sing Sondheim" at the Laurie Beechman Theatre, Jeff Harnar and KT Sullivan, along with musical director Jon Weber and director Sondra Lee, have done just that: they have crafted a funny, moving, powerful evening of song that is a masterful as the master himself.
Can you imagine a comedic duet of "The Ladies Who Lunch" (Company)? Or a four-song medley of "The Little Things You Do Together," "Marry Me a Little," "Getting Married Today" (all from Company) and "I'm Calm" (A Funny Thing Happened on the Way to the Forum) sung by a man? Those are just two of the tasty morsels of sumptuous sound in this thrilling evening of some of the greatest songs in the American Songbook.
Harnar has the ageless charm and good looks of Dick Clark—if Clark crooned like Bing Crosby or Frank Sinatra. His voice is smooth as clotted cream. He shamelessly flirts with the audience on "That Old Piano Roll" (cut from Follies). His "Send in the Clowns' (A Little Night Music) pulses with naked, brittle vulnerability. And his "Could I Leave You (Follies) pulses with wry, jocular intensity.
As for Sullivan, forget who the songs were written for—men, women, young or old; Sullivan puts her stamp on every one. Those eyes, mischievous, expressive, wicked, flirtatious. She weaves a hell of a tale, and her comic timing is impeccable. Uptempo or ballad—"Uptown, Downtown" and "Who's That Woman?" (Follies), "I Remember" (A Little Night Music), "The Madame's Song" (The Seven Percent Solution), "Pretty Women" and "Johanna" (SWEENEY TODD), or "In Buddy's Eyes" (Follies)—her silky soprano sells every song.
The pair has a funny bit about using Sondheim lyrics as patter, and in fact there is virtually no patter in the evening. Sondheim's brilliant lyrics and Harnar and Sullivan's subtle, wicked, hilarious interpretations tell us all. Their renditions are so specific and personal that I felt I got to know them intimately even though they never share a single personal detail. They work with the ease that comes only from decades of working an audience. Jon Weber is a gifted accompanist, keeping up with the pair's improvisational antics, and he plays and sings beautifully.
I thoroughly enjoyed this show and these two incredibly talented artists. The Beechman was packed to the walls, and there's only one more performance scheduled. If you're lucky they'll add some extra shows. "Our Time" is a great time.
"Our Time – Sullivan & Harnar Sing Sondheim"
Laurie Beechman Theatre  –  July 9, 16, 23, August 6, 13, October 19
Category: Reviews