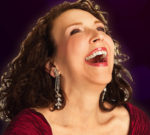 In singing music associated with Judy Garland, Karen Luschar has clearly found her métier as a performer. In her current show at Don't Tell Mama—"Chasing Rainbows: Songs of Judy Garland"—the singer doesn't exactly impersonate the late star, although many of the musical arrangements are reminiscent of (if not virtually identical to) the originals. Mainly, she resists mimicking the lively, sometimes frantic, movements that possessed the mature Garland in her 1950s and 1960s concert and TV appearances. (To indulge in such maneuvers would be tricky on the small Don't Tell Mama stage anyway.) Luschar does become more animated during certain numbers, including Irving Berlin's "Easter Parade."
As for the voice, however, it's assured and often markedly Garland-esque. I doubt that anyone can quite capture the warm, sweet lilt that the authentic Garland had when singing at moderate volume on a good evening. But Luschar does bring to mind the more seasoned star—especially when belting, which is something she does often. When singing at high volume, Luschar delivers a facsimile of that wobbly but confident vibrato of Garland's that tended to make her blur certain vowels. For instance, on "Swanee" (George Gershwin, Irving Caesar), the words "I'd give the world to be…" come out as "I'd give the wuhld to bihh." Some phrases during the more raucous numbers, though, are really quite thrilling. Among the most successful selections in the show are a fervent "Zing! Went the Strings of My Heart" (James F. Hanley) and a crowd-pleasing "On the Atchison, Topeka and the Santa Fe" (Harry Warren, Johnny Mercer).
Luschar sings—and talks—a lot in this show. Late in the evening, she quotes a line about Garland having lived four lifetimes in 47 years. It seems at moments as though Luschar is attempting to pack those lives into sixty minutes. The program is biographical and chronological. It starts with a description of Garland's first public performance—as precocious toddler Frances Gumm, who repeatedly sang "Jingle Bells" at a vaudeville Christmas show. It wraps up with her death on June 22, 1969, a day on which, according to Luschar, a tornado happened to touch down in Kansas.
We get all the familiar biographical info: the days both triumphant and stressful making movies at MGM, the multiple marriages, the financial woes, legendary shows at the Palace and Carnegie Hall, the misfortune of having her CBS variety show slotted opposite NBC's mega-hit Bonanza. In between all the biographical material, Luschar sings what seems to be every title associated with the Garland career. But afterward you realize there are, in fact, many she has skipped, including "The Man That Got Away," "San Francisco," and "Chicago (That Toddlin' Town)"—oh, and she omits "Jingle Bells" as well.
In any case, "Chasing Rainbows" sometimes feels like a musical version of the Wikipedia entry for Judy Garland. That's a shame, because Luschar is truly talented and appealing. I think that in future outings she would have a more satisfying program if she ditched the strictly chronological approach, found some Judy stories that are relatively unfamiliar, slowed down, and cut the number of songs by a third.
What the singer shouldn't curtail are the contributions of her musicians. Pianist Richard Danley showcases his musicianship (and showmanship) nicely, particularly on an invigorating rendition of Berlin's "I Love a Piano." He is aided by drummer Mike Campenni, along with bassist David Shaich, who provides some warm and lovely bowing on "Over the Rainbow" (Harold Arlen, E.Y. Harburg).
"Chasing Rainbows: Songs of Judy Garland"
Don't Tell Mama  –  October 10, 16, 24, November 21
Category: Reviews