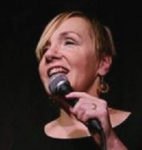 I think pretty much all of us at one point or another in our music listening lives had a soft spot for The Carpenters and for Karen Carpenter's extraordinary vocals, at once light and dark, gentle and strong; in her hands, the most saccharine of songs revealed a steely spine, and the saddest of ballads retained a hopeful sheen battling the tears. For 14-year old Judy Pancoast, that soft spot quickly became an obsession that remained with her throughout her life and career—a situation she recounted and celebrated in her show at Don't Tell Mama, "Remembering the Carpenters," with music director Michael Pierce on piano.
In a nod to a 20th century cabaret cliché, she began off stage with a bit of "Yesterday Once More" (Richard Carpenter, John Bettis) that led her to the stage and to "(They Long to Be) Close to You" (Burt Bacharach, Hal David) the song that introduced The Carpenters to her, and introduced Pancoast to us as she involved us in the song in unexpected, personal ways. While her voice is not really like Carpenter's (although she claimed people have told her that it is), she is a good singer with a welcome attention to the lyric and the story. Next was "We've Only Just Begun" (Roger Nichols, Paul Williams), which was also nicely delivered in and of itself, as was "Rainy Days and Mondays" (Roger Nichols, Paul Williams). But as good as she was within the songs, a sameness developed, particularly in the ballad-heavy first half. Of course, this is a hazard of mounting a tribute to what was primarily an "easy listening" group whose stock in trade was slow songs. Each song was a jewel, but one after another, the shine of the jewels began to blur. In these circumstances, her fun take on "Sing" (Joe Raposo) comes across as an up-tempo number! I particularly liked her take on "Superstar" (Leon Russell, Delaney & Bonnie Bramlett), addressed directly to the Carpenters and filled with adolescent angst.
I am not sure whether it is the fault of the singer, of Pierce, or of director David Gaines, but a decision was made to do each song once through with no instrumental breaks. The cumulative effect is a rushed, cursory feel that leaves little room to breathe—for the songs, the singer, or the audience.
Then there was the patter. The spoken portions of a show can often be the most problematic. There is a tendency to want to say too much, to give too much biographical information to set up the songs. This deprives the audience of a level of participation in the stories and the performance. Rather than seeing themselves in the material, they are forced to observe the singer in an almost clinical way. What would be much more effective as subtext is laid out there as text and hurts the show. In the case of "Remembering the Carpenters," what worked best were the singer's memories of her actual contact with both the recordings and, eventually, the performers themselves. She retained her youthful excitement and thrill at speaking with her idols. Unfortunately, this comprised only about half of the patter; Pancoast also included a lot of information on her childhood home life, with parental drinking, abuse (mostly psychological) and implied neglect, and returned to this again and again. This started awkwardly with the very first words she spoke. It came across as "Hello, I like the Carpenters. My parents used to hit the bottle." It forced the audience to look to the songs for clues to her mental and emotional wellbeing. The connections were at best tangential, so the songs suffered from this added baggage and offered little release for the audience's own relationship to the material.
Although Pancoast did eventually pursue a career in music and, in fact, has been Grammy nominated for a children's album, she presented minor triumphs in her youth in the way a non-performer relative at a party will recount winning a talent competition or singing the lead in a school choir as if they were major life achievements. She performed a school song she wrote as if it belonged in the company of the show's actual pop classics. This was not only a bit embarrassing, it diminished her stage presence as a professional singer.
So, as much as I liked the singer—and I did very much—the show was not a success. With work, this could be re-shaped into a much more enjoyable piece. If she would decide to tell us about herself in her singing and not in her patter, she would be on her way.
"Remembering The Carpenters"
Don't Tell Mama – November 27, 28, December 30
Category: Reviews