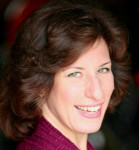 Like many cabaret-goers, I first became aware of Josephine Sanges when she competed in the Metropolitan Room's MetroStar Talent Challenge last summer (she finished second runner-up in the competition). At the time, she was a relative newcomer to cabaret. Her singing background had been largely in the world of sacred music. (As a church musical director, she had sung—and she continues to sing—at Catholic masses.) However, in 2014, she'd staged a solo show of secular music at The Metropolitan Room.
I'll confess. I was more than a little gobsmacked by this woman's talent during MetroStar. Sanges's voice has an extraordinarily pure and concentrated quality, and she can fill a room with it in a way that seems perfectly effortless. In the competition—as in this more-recent engagement—she sang some up-tempo, jazz-inflected numbers, in which she changed the melody lines and scatted to good effect. But it was in the slower numbers that she excelled. Her voice pulled the audience in. Ears pricked up to catch the tinier nuances. There may have may have been a dry eye in the house that first time I heard her sing last summer, but it wasn't either of mine.
While the voice, itself, is a spectacular gift, the packaging of it for cabaret audiences has been in need of some spiffing up. It's not that Sanges has been particularly stiff or uncomfortable in front of club audiences—but she has come off as a sort of anti-diva. She's not a performer with a lot of flash or overt glamour, especially when she's chatting between numbers.
But now she seems to be heading in a more vibrant, confident direction. In the show I saw early this month at the Metropolitan Room, her patter was mostly about how she made the move into cabaret performance and what she's learned in the months she's been doing it. She was affable, good-humored, and seemed a bit more in charge than before. I sense she'll always be a rather unassuming performer at heart. But far better to project a heightened version of her gentle self than to adopt a brash or flamboyant stage persona at odds with her true nature.
With her exceptional vocal prowess, the need to pile on a lot of showy acting tricks while singing isn't pressing. But Sanges and her musical director/piano accompanist, John M. Cook, have worked to showcase various facets of her talent. There was a bluesy streak in her opening number, Tom Jones and Harvey Schmidt's "I Can See It." Her "Pure Imagination" (Leslie Bricusse, Anthony Newley) began as a slow, hushed, intense reverie, then gained steam and wound up with a rollickingly joyful, scatty finish. An ambitious, gospel-inflected "Amazing Grace" (John Newton, William Walker) was a nod to the singer's liturgical background (though she noted with amusement that she's never sung the number nearly so boisterously in church settings). And her effulgent take on Stephen Schwartz's "Meadowlark"—a selection that has become something of a cabaret-showstopper cliché—was a revelation. I have heard this story-song interpreted by many performers, but never with such a winning combination of sensitivity and emotional drive.
Most of Sanges's musical offerings were tried-and-true titles from the Great American Songbook, so it was a welcome change of pace when she sang  "Pleasantville," a number written by Cook. The song is an appealing retelling of the premise of the 1998 motion picture of the same name. (Cook's musicality was in evidence throughout the evening, though his playing seemed a bit over-aggressive at points, especially during the first part of the show.)
Not every one of Sanges's selections was an unqualified winner. I would suggest she ditch her rather ordinary rendition of Tony Hatch's "Downtown," or else find a more imaginative approach to it.
In one of the semifinal rounds of the MetroStar competition, Sanges had performed a breezy version of Bart Howard's "In Other Words (Fly Me to the Moon)." The judges suggested she dig deeper into the emotional content of the song. When she returned to the stage the following week, she delivered a slowed-down take that was a shimmery celebration of romantic bliss. At this new show, she performed the lively version of the number midway through the set, then ended the show with the ballad version. Before singing it, she talked about what she's learned in the last year about the importance of focusing on her relationship with her audience while singing. Nothing could have better illustrated the point she was making than her heartfelt, richly communicative performance of the song.
Metropolitan Room  –  December 27 (2015), January 10, 31, March 3, May 6, August 5, October 28, December 30
Category: Reviews