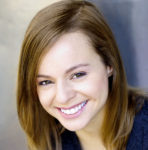 In her recent show "Frenchy," at Don't Tell Mama, Jen Fellman told of her three-year stint living in Paris, striving to transform herself into a Parisian. The show was a striking piece of cabaret theatre, graced by the sharp direction of John-Richard Thompson and the sensitivity and show-woman-ship of Fellman herself.
The evening was not just a collection of songs centered on a story or theme. It was, instead, a theatrical work that integrated music into its very fabric. Narration was blended into the songs. And the excellent music director and pianist Bob Goldstone enhanced the non-sung portions with a background score that made everything seem "of a piece." Further, Thompson helped Fellman create indelible stage pictures with the aid of simple props: a red umbrella, a silver tray. I haven't been as satisfied with this sort of gesamtkunstwerk approach to cabaret since Shana Farr's lovely "In the Still of the Night" a couple of years ago.
The story opens with Fellman embarking on her time in Paris as a sort of Henry Jamesian heroine: avid for European adventure but with slim hope of learning all the codes and secrets of the enchanting city's life (Leslie Bricusse and Anthony Newley's "All American"). But once she has had a glimpse of the terrain, she's hooked (Walter Donaldson, Joe Young, and Sam M. Lewis's "How Ya Gonna Keep 'Em Down on the Farm (After They've Seen Paree)?"). Happily, she befriends a young Frenchwoman, nicknamed "Frenchy," who helps her find her way (Sam Ehrlich and Con Conrad's "Oh! Frenchy"). Her dream of somehow Frenchifying herself becomes more attainable, but she learns that "you don't just become Parisian—you earn it."
Accordingly, she embarks on some exciting local adventures. She experiments with modulating her American accent. She has a chance encounter with her idol, Catherine Deneuve, with whom she shares her umbrella during a storm (Michel Legrand, Jacques Demy, and Norman Gimbel's "Je ne pourrai jamais vivre sans toi" ("I Will Wait for You")). And she becomes the only American staff person at a café Americain, where she tries on the role of haughty Parisian waitperson (Boris Vian and Jimmy Walter's "J'suis snob").
But although her landlord has warned her against seeking her soulmate in the city, Fellman finds herself falling hard for Frenchy. And the love affair ends badly. Her heart fully broken, she suddenly views her beloved Paris as a cruel place. Eventually, though, she rallies. She comes to know that she'll never become fully Parisian, but she can perhaps call herself not just an "American in Paris" but, rather, an "American from Paris" (Casimir Oberfeld, Pierre Baylem and Leopold De Lima's "Oui, je suis de Paris").
Dressed in a wow of a little-black-dress, Fellman was poised and powerful throughout the evening. Her voice became thrillingly expansive during some of the show's more stirring passages. In fact, at points I could almost picture her as Delacroix's Liberty Leading the People. But she was tender and quiet at other moments, notably Eric Maschwitz and Jack Stachey's "These Foolish Things (Remind Me of You)." Then there were her moments of jaunty fun, as with Oberfeld and Albert Willemetz's "Paris sera toujours Paris." Throughout the show, she sang in a satisfying balance of French and English, providing enough context and clues about the French lyrics to keep unconfused those of us whose command of the language is rusty (or thoroughly shoddy to begin with).
I hope that Fellman will return with this program for an encore or two. "Frenchy" is cabaret that deserves to be seen by many more New Yorkers.
"Frenchy"
Don't Tell Mama  –  December 2, 4
Category: Reviews