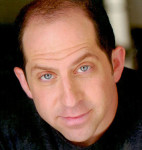 Jason Kravits is one of those good, reliable television character actors whose name might escape you, but whose face has you saying, "Oh yeah, that's the long-suffering district attorney from The Practice," or "I remember that guy from Grey's Anatomy" or from one of the seemingly endless list of shows on which he has co-starred or guest-starred. Once you see him command the stage at the Duplex in his brilliantly funny improvisational musical comedy show, "Off the Top!," this will no longer be a problem. Trust me, you will remember his name.
Even before the show begins, the audience is asked to participate by filling out slips of paper on each table, entering a place, an adjective, a phrase, some words to live by, and the most recent text on their cell phone. The papers are collected and put into a fishbowl that is then placed on the piano. The answers that were jotted down will give Kravits the building blocks for a smart, hilarious, surprising, and unique evening centered around a fictional character that is conjured out of three simple questions asked of the audience by his pianist. The answers to those questions give us a first- and last name and a hometown. From then on we're flying with him and we don't touch down for an hour.
The star of the night I attended turned out to be one Ray Holmwood from Tallahassee, a down-on-his-luck singer/actor trying to break into the big time in NYC by doing a cabaret at the Duplex after failing to make it in theatre. I don't really have to worry about spoilers here, as might be the case with other comedy shows, because each show is different since it's fueled by the contemporaneous answers of the audience. The set-up is nothing new for improv comedy, but the dexterity and consistency of the delivery and the sheer number of levels on which the show operates (and succeeds) sets it apart from other endeavors—in fact, it is downright dazzling.
Whether he's managing to make a tasteless suggestion like "booger" palatable in a song (the pun is definitely intended), or delivering a stirring ode to Melbourne, Australia, or dueting (and tapdancing) with special guest Robert Creighton (called up from the audience as one of Ray's nightclub cronies from Florida), he hits all of the traditional improv targets dead center. But he's after much, much more. When he takes on Stephen Sondheim or Jason Robert Brown, his musical commentary is on the money as well, revealing the partially clay feet of these revered masters. I don't think I will be able to listen to "Stars and the Moon" again without remembering Kravits's syrupy sweet rendition of a touching high school love ballad called "Remember the Alamo," set up as Ray's big number from a failed Brown workshop. Jazz and R&B also come under the scalpel as the night goes on.
Here, and throughout the evening, the remarkable backing trio not only supports the star's improv, but also contributes quite a bit of its own; kudos to drummer Sean Dixon, bassist Jeff Kerestes, and, especially, pianist Jody Shelton.
As things progress, it becomes apparent that Kravits is working on another level as well. He is gently, but pointedly, commenting on the entire process of creating a cabaret show. In fact, one of the biggest laughs of the night comes in a quick dissertation on stage directions when performing in a cabaret room. That one I won't spoil, but the audience roared.
I have not laughed as much, or as heartily, in a cabaret in a very long time. I cannot recommend Jason Kravits highly enough. He will be back on The Duplex stage next month creating a whole new world of delights on the spot. I plan to be there.
Off the Top!
The Duplex  –  December 17, January 21, February 18
Category: Reviews