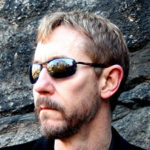 Songwriter-pianist Marc McBarron Kessler could not hope to find a better interpreter of his song cycle, Ghost of Vaudeville, than actor-singer J. Michael Reeds, whose bravura performance on stage at Don't Tell Mama held my interest and attention even when the songs, themselves, faltered in that regard. Kessler is a talented composer and lyricist, but this grouping of songs displays too much repetition of sound, story, and style to be fully successful. Considered separately, each song has much to offer, and Reeds never fails to highlight those individual merits.
I felt a bit unmoored from the beginning because there is no narrative connection between songs to put them in a specific time and place. Each song, voiced by a father, a mother, or most often, their son, back into each other with no sense of chronology. The story they weave is heavy on symbolism [sometimes a balloon should just be a balloon] and death (of the entire "cast" of characters if I have read the piece correctly, but I am honestly not sure). There is a thin line between mystery and confusion, and that line blurs enough here to make me long for a bit of dramaturgy to sequence and perhaps replace some of the songs in a more satisfactory way. This would help with the "ballad-heaviness" of the evening as well.
Kessler can definitely turn a phrase when he wants to, and his lyrics are often quite beautiful and haunting. The opener, "Training Wheels," touchingly follows the change in meaning over time of the simple words "letting go" and charts the ways that the simplest memories can become profound.
His playing is lovely as well, but the songs are often made up of admittedly melodic chords rather than actual melodies. This sometimes reduces the vocals to a kind of dramatic, subdued chant that gives Reeds little chance to fully engage his vocals, but, as mentioned, what he wrings from them is impressive indeed. "One of Everything" is about as lighthearted as the score gets, and it is turned into an uptempo moment by the sheer force of Reeds's delivery. This lack of melodic invention also causes Kessler to highlight a dramatic moment by abruptly dropping the piano out and letting the unaccompanied vocal supply the "drama" as the singer finishes the phrase. This is the fall back "surprise" on too many songs.
In one of the better numbers, "Letter To My Younger Self," the singer admonishes, "…don't take life so seriously." I wish that the songwriter had heeded his own advice here and there. He seems reluctant to be light or witty because it might weaken the poetic ruminations; the portentousness at times reminded me of a college student feeling "big" feelings that he believes have never been felt before and that only he can convey in poetry. My poetry from my school days dripped with self-importance and are long hidden away.
A dramatic "Ghosts Don't Know They're Dead" is a stunning finale, but it would be even better had it not been preceded by so much death and morbidity. Lines like "…a million butterflies have died" and "…I pray I make it to my next birthday" (sung by a child) are meant, I'm sure, to add weight to the poetry, but they become merely heavy-handed.
There is so much potential (and so much that is already good) in Kessler's work that I hope as he continues with Ghost of Vaudeville he can vary his music and subject matter to bring a little more light and life to it. As it stands, the show is worth a visit for J. Michael Reeds's wonderfully expressive voice and passionate, moving performance.
Ghost of Vaudeville
Don't Tell Mama – July 12, September 22, October 14, November 9
Category: Reviews