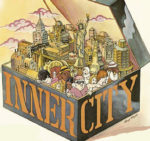 Feinstein's/54 Below
Thursday August 17, 7:00 & 9:30 pm
A concert version of the groundbreaking 1971 Broadway musical Inner City, hosted by Allan Nicholls from the cast of the original production.
1971 was a red-letter year for director Tom O'Horgan; his productions of Hair, Jesus Christ Superstar, Lenny, and Inner City were running simultaneously on Broadway. The first three were commercial and critical hits. Perhaps the victim of backlash against his success, Inner City (a pop-rock-gospel musical adaptation of Eve Merriam's The Inner City Mother Goose) didn't fare as well, but artistically it was the equal of the others, and Linda Hopkins, who sang the show's cult hit, "Deep in the Night," won Tony and Drama Desk awards for her performance. Conceived by O'Horgan, with music by Helen Miller and lyrics by Merriam, Inner City presented a portrait of New York street life long before the ascendance of Rent and In the Heights.
In addition to Nichols, the company features actress-singer Annie Golden and R&B star Cheryl Pepsii Riley, heading a cast of theatre and recording artists. Musical director Rob Baumgartner, Jr. leads a 7-piece band, and Michael Boyd directed.
Category: Bistro Picks