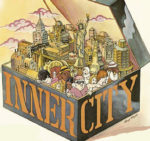 Directed by Tom O'Horgan, Inner City opened in late 1971 and ran just under 100 performances. The passionate following it and its cast album have attracted since then makes it the quintessential cult musical. There are a few possible reasons for its initial failure. It was the fourth O'Horgan show running concurrently on Broadway; the others were Hair, Jesus Christ Superstar, and Lenny, each a big hit. So there may well have been a bit of critical backlash against his successes. The show was basically a cantata rather than a traditional book musical—an impressionistic view of life in an urban ghetto based on poet Eve Merriam's best-selling book The Inner City Mother Goose, in which traditional nursery rhymes were transformed into blistering comments on the poor quality of life that inner city offered. The remarkably varied and exciting score, with music by Helen Miller and lyrics by Merriam, featured liberal doses of R&B and gospel. Theatre audiences were just beginning to accept rock & roll and were probably not ready to accept yet another expansion of genre.
Ironically, the last two possibilities are major reasons that the Inner City Reunion Concert at Feinstein's/54 Below was so spectacularly successful. The cast of twelve solid singer-actors brought the show's swirl of characters to vivid life in interconnected vignettes and songs that told tales as relevant to 2017 as they were to 1971. In the 46 years since the show's debut, the score hasn't aged at all, sounding contemporary and freshly minted in spite of the passing decades and musical trends. The songs range from short rhymes interwoven with fragments of life on the street to fully composed, honest-to-God show-stoppers like "Deep in the Night," which was instrumental in winning original cast member Linda Hopkins her well-deserved Tony Award. In this concert production, Yolanda Wyns's passionate performance made the song her own, and her raw, volcanic version of the eleven o'clock number, "It's My Belief," brought the house down.
Original cast member Allan Nicholls was billed as host, but he contributed so much more, throwing himself into his various roles with joy and energy to match his younger cast mates. I found him particularly effective on "Tom Tom," in which a street cop laments the disappearance of acquiescent black men as revolutionary sentiment spread through the streets of America. He scored equally well as a pusher selling his wares on the street corner.
One of New York's treasures, Annie Golden was a joy to behold, whether getting wry laughs singing "City Life" or in a soul-searching monologue about the kindness of strangers that managed to be both touching and bitter. Lauren Elder's tartly observed and beautifully belted defense of streetwalking brought out every wicked laugh and sting in "The Hooker," arguably the most traditional theatre song in the piece. Dionne Carole's soulful and stirring wish for escape from the ghetto, "If Wishes Were Horses" held its own against the memory of the great Dolores Hall's original version. C.E. Smith was memorable inhabiting a boy scoring grass in a school yard in "Jeremiah Obadiah," as was Ray Shell leading the full cast in the climactic pairing of the prayer "The Great If" and "On This Rock," one of the best closing numbers Broadway has ever heard. The company made it soar.
Under the guidance, staging, and direction of Michael Boyd, the entire cast was worthy of mention. Boyd's impassioned introduction before the show began was indicative of the love for and commitment to the piece that was shared by every person on the stage and felt by every person in the audience. The outstanding band, led by musical director Rob Baumgartner, Jr, was first rate; just seven talented musicians and Baumgartner's remarkable arrangements miraculously created the feel and power of a full pit orchestra.
One could quibble with the admittedly understandable cutting of a song here or a monologue there, and might question the inclusion of other, newer songs not quite up to the quality of the originals. There were sound problems when the entire company was on stage, making some of the lyrics difficult to hear. A few more microphones and a bit more advantageous placement of the cast might have remedied the situation. But those are minor reservations about an evening so filled with delights, so brimming with joy and life, so astonishing that I wish it could settle into the club for an extended run, or even better, grow into another, and this-time successful, run on Broadway.
Feinstein's/54 Below  –  August 17 (two shows)
Category: Reviews