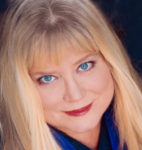 Early on in her new show, Use Your Imagination, recently at the Beach Cafe, Heather Mac Rae revealed, with no hesitation, that she is 70 years old. In fact, she seemed downright gleeful about it—and why not? It has been nearly 50 years since she first set foot on a Broadway stage in Here's Where I Belong (which closed on opening night) and then replaced Diane Keaton in the original Broadway production of Hair. When she embraced the cabaret stage a little while later, she immediately became, and remains, one of its warmest, wisest, most entertaining practitioners. Her attention to lyric detail, her simple, emotional honesty, and her effortless musicality continue the tradition of Julie Wilson and Barbara Cook. Burnished with the passing years, her singing is, if anything, even more immediate and touching.
Perhaps because there are 50 years of material from which to choose, the program came across as a bit scattershot, and that didn't always show the singer off to best advantage. She opened with a medley of three songs: Cole Porter's "Use Your Imagination," Rodgers & Hart's "My Romance," and Goffin & King's "Up on the Roof." Three great songs that I would have loved to hear Mac Rae sing in their entirety; however, they were strung together in a way that didn't illuminate any of them. There were a total of five medleys in the show. In a Cole Porter pairing, her straightforward, nicely phrased "Down in the Depths (On the Ninetieth Floor)" and her haunting, exquisitely romantic "Begin the Beguine" would each have been a standout on its own; together, they got in each other's way. Only one of the medleys fully justified itself qua medley: "American Tune" (Paul Simon, from J.S. Bach) and Simon's "America." Beautifully sung, with lovely piano accompaniment from music director Mark Nadler, this coupling proved that when thought and care go into a medley, it can become better than the sum of its parts.
It was nice surprise to hear Joni Mitchell's "That Song About the Midway," particularly with Mac Rae's strong musical storytelling on full display. There was a somewhat schizophrenic arrangement of "Surrey with the Fringe on Top" that, once it settled into its slow and deliberate second half, proved to be quite lovely, indeed. It was a sweet acknowledgment of her father, Gordon MacRae. She delivered a touching "Lost in the Stars" (Kurt Weill, Maxwell Anderson) that was aglow with longing, sadness, and loss. She recalled Hair with "Easy to Be Hard" (Galt MacDermot, James Rado, Gerome Ragni); unfortunately, by its end, the number had become big and brassy, which undercut the song's gentle message.
Even in the songs about which I had reservations, the simple act of hearing Heather Mac Rae sing was a joy in and of itself. The relaxed, intimate surroundings of the Beach Cafe seemed a natural fit for her. I hope she returns soon.
Use Your Imgination
Beach Café – August 17, 18, 19
Category: Reviews