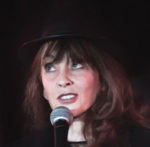 Gay Marshall is the first to admit that feelings about Paris, and groups of songs expressing those feelings, are seriously in danger of evoking narrative and musical clichés. In her current show at Pangea, "Gay's Paree," she confronts this problem head on, and largely avoids it. In her opening number, Dave Frishberg's "Another Song About Paris," Marshall determinedly asserts her premise. Although she isn't the first cabaret artist to employ this song to underline unique independence of thought concerning the City of Light, make no mistake, this is Gay Marshall's Paris, no one else's. First, having the audience assure her that each of us has been to Paris and has vivid memories of time spent there, she spins her tale—without any help from the likes of Cole Porter and Can-Can, or Lerner and Loewe and Gigi. Apart from Frishberg, the music's composers here are all French.
A gamine of a certain age, in her trademark black fedora, the Ohio-born Marshall energetically and cheerily recounts her favorite haunts in, and her somewhat mixed feelings about, Paris. She went to the city a couple of decades back, in love with a Frenchman, to whom she is still happily married. With Broadway cred from a stint in A Chorus Line, she sought and got bookings to perform in venues ranging from dive bars, through a down-market sightseeing bateau on the Seine, up to the Folies Bergère and the Olympia Theatre, but too often in "really bad shows." She played Grizabella in the Paris premiere of Cats for a year, happily singing "Memory" at every performance, but mercifully not here. (Marshall even did a deliberate stint as a busker on the bridge where Édith Piaf spent the better part of her early performing life, this in aid of Marshall's research for her one-woman Piaf tribute show.) Along the way, she both learned fluent French, and "suffered greatly at the hands of the French." Some days, especially at first, she "was crushingly condescended to." Despite this, she declares "I am a certified Francophile."
Ably abetted by her musical director Ian Herman on the piano, Marshall sings in a voice that is always authoritative and a pure pleasure to hear, wide-ranging in its emotional and musical colors. She delivers her lyrics almost equally in French and English, frequently in the same song, sometimes even in the same sentence, always with great fluidity. While we all may have been to Paris, we're not all fluent in French, so Marshall kindly explains the lyrics we are about to hear in advance, rather than afterward, or not at all. Most of the English lyrics she sings are her own "re-translations" of the original French lyrics, and not the translations that are generally sung, which she found wanting. Accordingly, she supplied English lyrics to "La bohème" (Charles Aznavour, Jacques Plante), "Les feuilles mortes" or "Autumn Leaves" (Joseph Kosma, Jacques Prévert), and Jacques Brel's "La chanson des vieux amants" ("The Song of Old Lovers"), among others.
The closest thing to an overdone city song in this set is "Under Paris Skies" (Marshall's re-translation of "Sous le ciel de Paris" by Hubert Giraud and Jean Dréjac), which is saved from complete familiarity by her new English lyric and the lack of accordion accompaniment. (Sure enough, the morning after I saw this show, I went down into the subway under Times Square and heard a busking accordionist playing "Under Paris Skies.") Not that it's especially needed, comic relief comes from "J'suis snob" (Jimmy Walter, Boris Vian, Marshall), in response to that crushing condescension.
One misfire: a toy train village is set up between Herman's piano and Marshall's performing space, ostensibly to keep the audience on the exact route of our faux walking tour of Gay's old haunts. But the tiny landmarks are largely hidden behind a protective city wall, with only the top of the Eiffel Tower visible to most of the audience, at least until Marshall picks them up and moves them like chess pieces. Marshall is admittedly fluid in her Parisian geography, moving the pieces about to take us where she wants to take us, in her own order. But this cutesy setup becomes pointless and distracting. Her narration is so strong, she'd be better off just telling us why we're visiting a particular locale, at this particular time.
"Gay's Paree"
Pangea – March 15, 22, 29, April 5
Category: Reviews