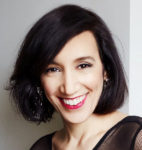 In her recent one-off at Birdland, City Girl, Country Boy: Gabrielle Stravelli Sings Willie Nelson, the singer put a guitar-free jazz spin on some of the country legend's biggest hits—his self-penned songs, as well as other writers' titles that he's performed and/or recorded over the decades. Some performers might fret about just how smoothly this "city mouse, country mouse" fusion would work, but not Stravelli. She noted that Willie and his sister, Bobbi, grew up listening to, singing, and performing the songs that would later be enrolled in what's come to be called the Great American Songbook. And although Nelson's parents lived on a tight budget, they seemed always to find a way to purchase sheet music of the popular songs their children would hear on the radio. She pointed out that Nelson's breakthrough recording as a country singer, 1975's concept album Red Headed Stranger, came only three years before Stardust, the much-loved album of standards that helped him cross over into mainstream popularity. Later he would pay tribute to jazz guitarist Django Reinhardt (and Jimmie Rodgers) on an album with Merle Haggard. Stravelli opined that Nelson is as much rooted in the world of jazz as he is in country music.
Her opening number, a pairing of Nelson and Buddy Cannon's "Lady Luck" and Lefty Frizzell and Jim Beck's "If You've Got the Money, I've Got the Time," gave me a few doubts about the show. Stravelli performed the first song at a frantic pace, then slowed things down a little for a sexier effect on "If You've Got the Money." She found space in the mash-up for some scatting, not to mention a saxophone solo from Scott Robinson. It all seemed a bit overcrowded, and Stravelli's voice sounded a tad thin and somewhat nasal. (For this and another up-tempo number, "Mamas, Don't Let Your Babies Grow Up to Be Cowboys" (Ed and Patsy Bruce), she seemed to affect a twangy drawl.) Fortunately, she found her footing in her second selection—a yearning ballad called "Butterfly" (Sonny Throckmorton, Mark Sherrill) from Nelson's most-recent album, God's Problem Child. The song, which bears a marked melodic resemblance to Jay Livingston and Ray Evans's "Que Sera Sera," may, on its surface, be about an actual butterfly, but it could also be about a fluttering-away lover or life's evanescence. Stravelli sang the number with a centered, ethereal quality, enhanced by a lovely flute passage from Robinson. The arrangement ended with a mad jangle of sounds, suggesting some sort of further metamorphosis for the restless winged creature—a passage into some other dimension, perhaps.
Several crowd-pleasing selections followed, including the inevitable "Stardust" (Hoagy Carmichael, Mitchell Parish). She began the number a cappella, then the band joined in with a simple, straightforward accompaniment (including another fine sax solo from Robinson). Stravelli's enchanting delivery showed off her impressive range. In a completely different mode, but just as enjoyable, was her sassy, swinging blues take on Jimmy Reed's "Bright Lights, Big City," which featured her most virtuosic scatting of the evening, as well as fine piano and bass solos by, respectively, Joshua Richman and musical director Pat O'Leary. Changes of pace included a Latin-tinged version of Nelson's "Three Days" (featuring a raucous drum solo by Eric Halvorson) and a gospel-inflected medley of three Nelson titles: "Little Old Fashioned Karma," "Blame It on the Times," and "Nobody Slides, My Friend."
The high point of the show for my ears was a pairing of "Somebody Pick Up My Pieces" and "Crazy," both written by Nelson and both dealing with emotional stress taken beyond the breaking point. Stravelli began with the lesser-known song, which had the sound of an old country hymn. In a thrilling moment, she segued, gloriously, into "Crazy," starting with its bridge ("Worry, why do I let myself worry?"). The unexpected punch of that familiar, plaintive phrase brought tears to my eyes when I heard it and again, now, as I write about it.
Of course, country music is known for its emotionality. Generally speaking, country artists don't simply wear their hearts on their sleeves—they let them drip down their cuffs and into their soup. (Though Nelson has long had that hard-edged "outlaw" veneer, his vocals are packed with feeling.) Jazz musicians, on the other hand, are often viewed as detached, cerebral, or aloof. When Stravelli thanked the audience at the end of the evening for coming to the show, she noted that many people hate country music while many others hate jazz. "So, you were very brave!" she joked. In fact, the synthesis of the two genres worked beautifully for her, perhaps because the hot and cool extremes blended to make the temperature of the musical porridge "just right."
What also made this show work was that it was, in fact, a show, not just a set. The songs were arranged in thoughtful order. The patter consisted of entertainingly presented info about Nelson's career and remarks about how Stravelli came to know and admire him. (Some of the tidbits about Nelson were delicious. I wasn't aware that "Crazy" was originally not "Crazy" at all, but, rather, "Stupid." Clearly, Willie was wise to go back for another draft.) A good deal of planning and work obviously went into this endeavor, and I can't believe the singer won't present City Girl, Country Boy again, perhaps for a full-tilt run. I certainly hope I'm right.
City Girl, Country Boy: Gabrielle Stravelli Sings Willie Nelson
Birdland  –  September 24
Category: Reviews